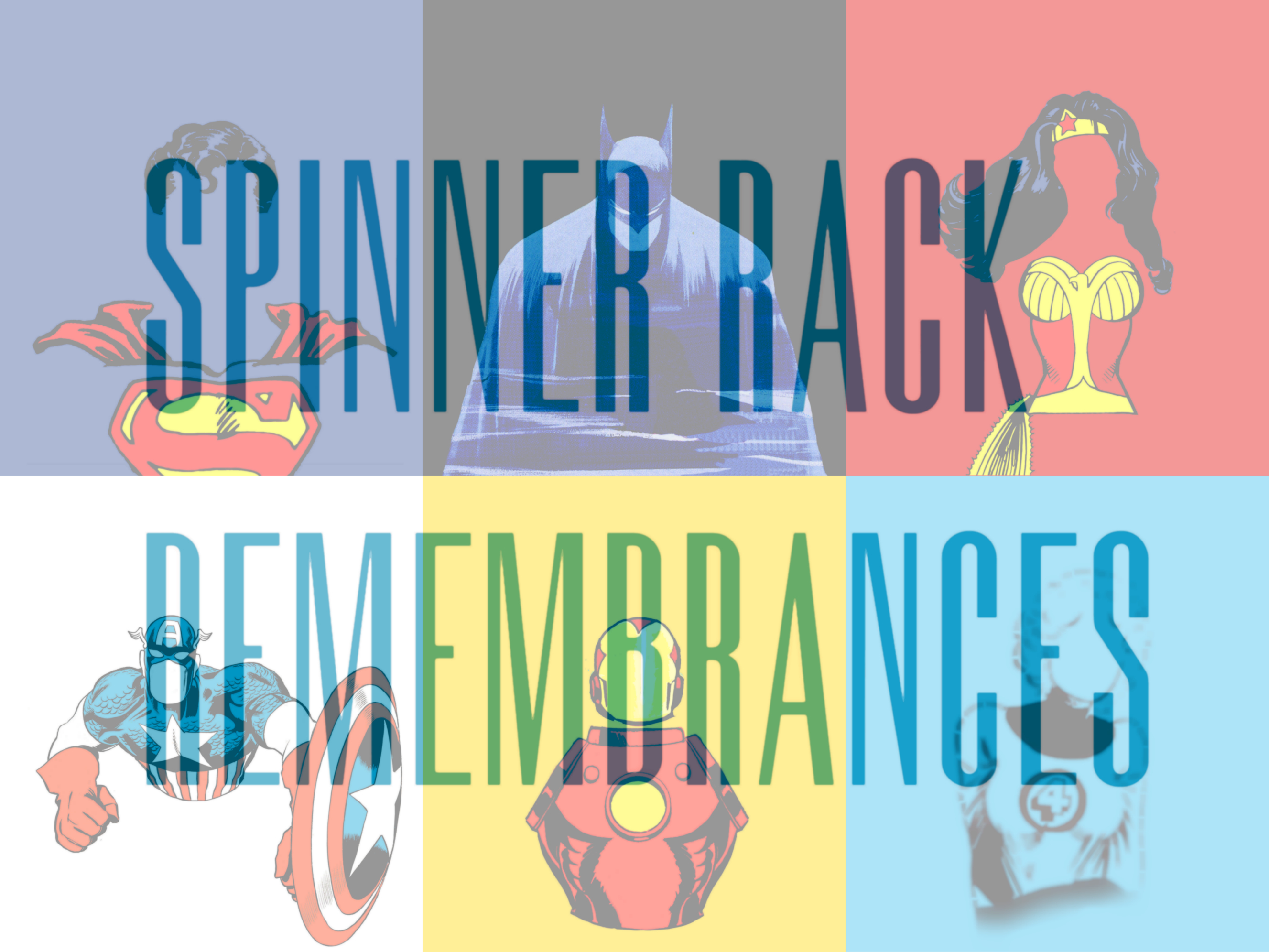 Spinner Rack Remembrances
From the time that comics began to be sold, there have been attempts to increase their sales and popularity. Newsstands were the first to carry comics, as they were a product of the newspaper industry - an attempt to keep the presses running and cut down on maintenance costs. Point-of-Purchase advertisements were popular in the industry and eventually led to racks specifically for products like newspapers, magazines and, eventually comics. These were typically wire racks and had metal signage attached. The art of these racks has fascinated our Webmaster as a kid. Our Webmaster has restored a few examples of these signs, altered others to match the aesthetic of the comics at that time. Hope you enjoy our examples.
Circa late 1939 - early 1940: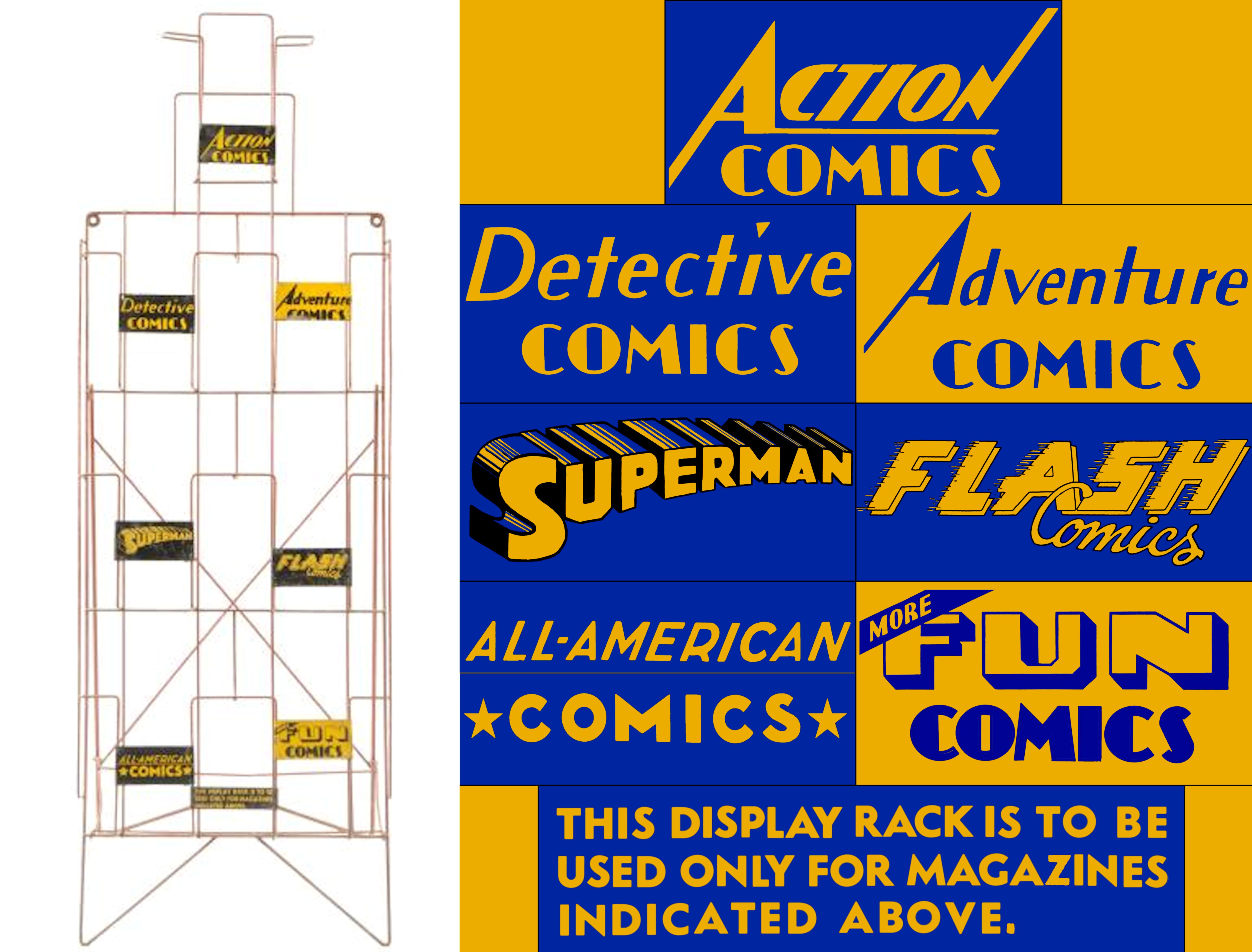 Working from the photo of the rack - before & after: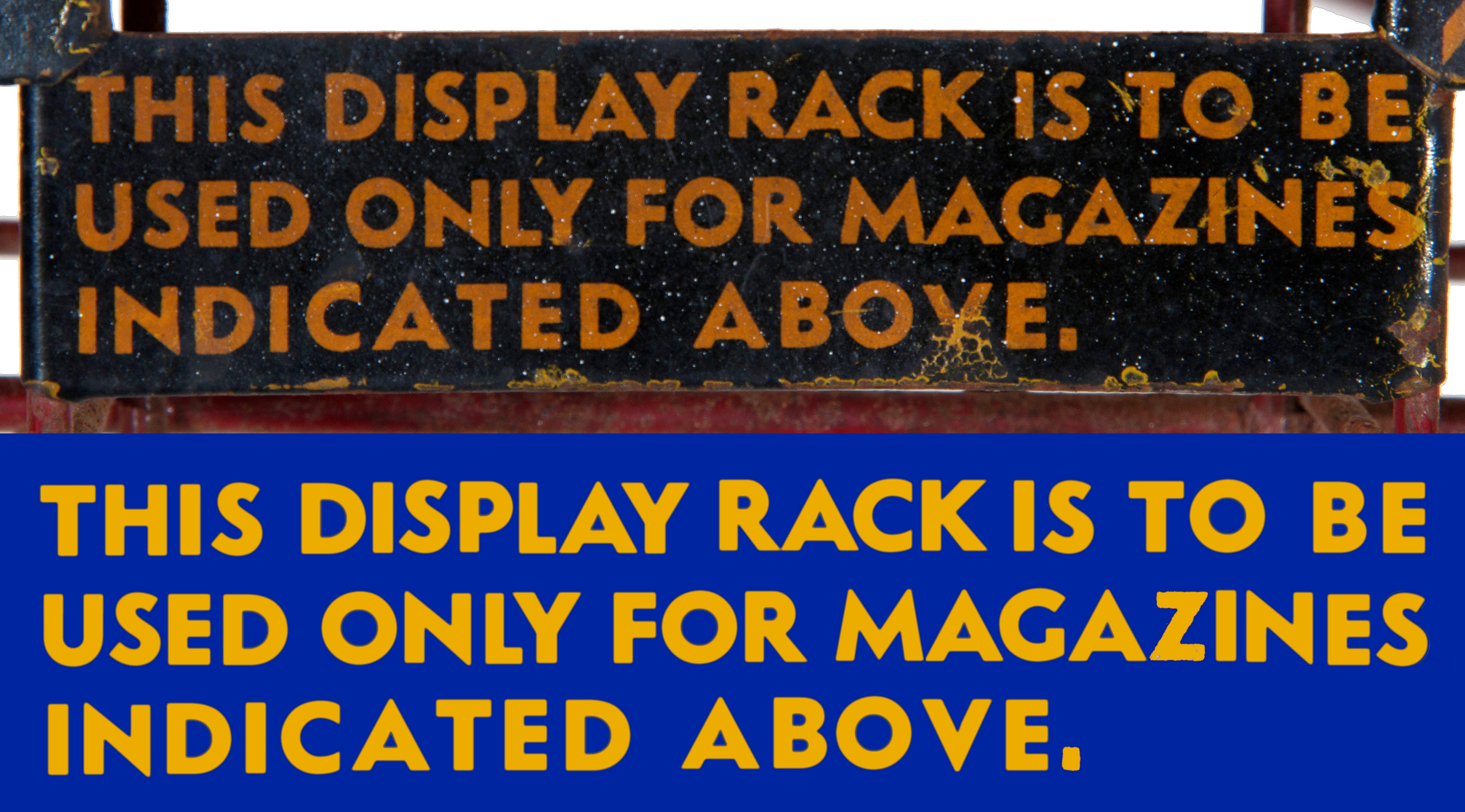 Some time around October or November 1940. All text left to original state, image from Superman #6 used to replace original. This was the intent, but lacking a stat, an artist re-drew or traced the image for the purposes of this ad. It would have been added to the top opening of a standing rack similar to the one above (there were 8-pocket versions, as well):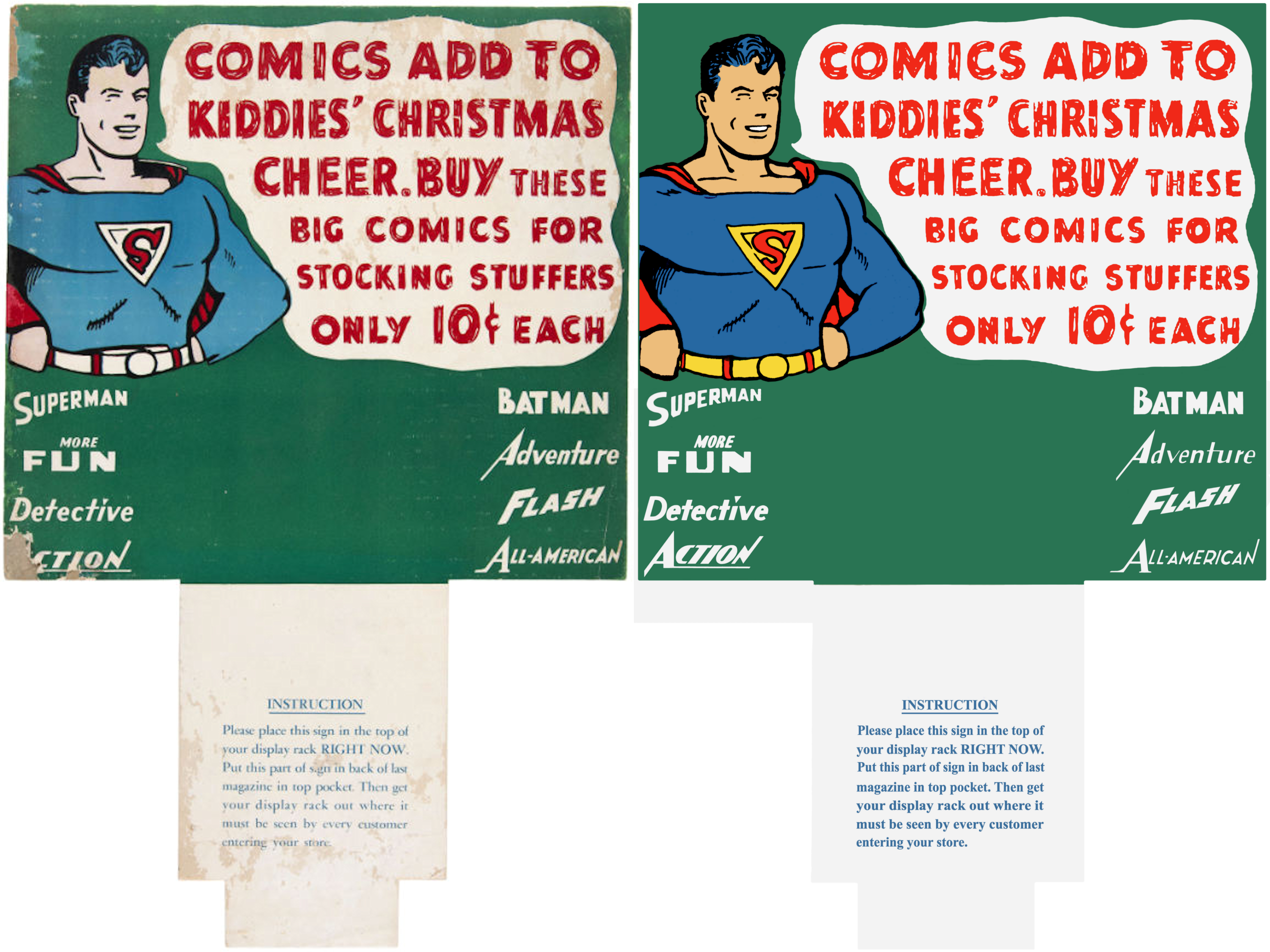 A rack topper sign from Dell Comics, who did less of this kind of thing. This is circa early-to-mid 1950s: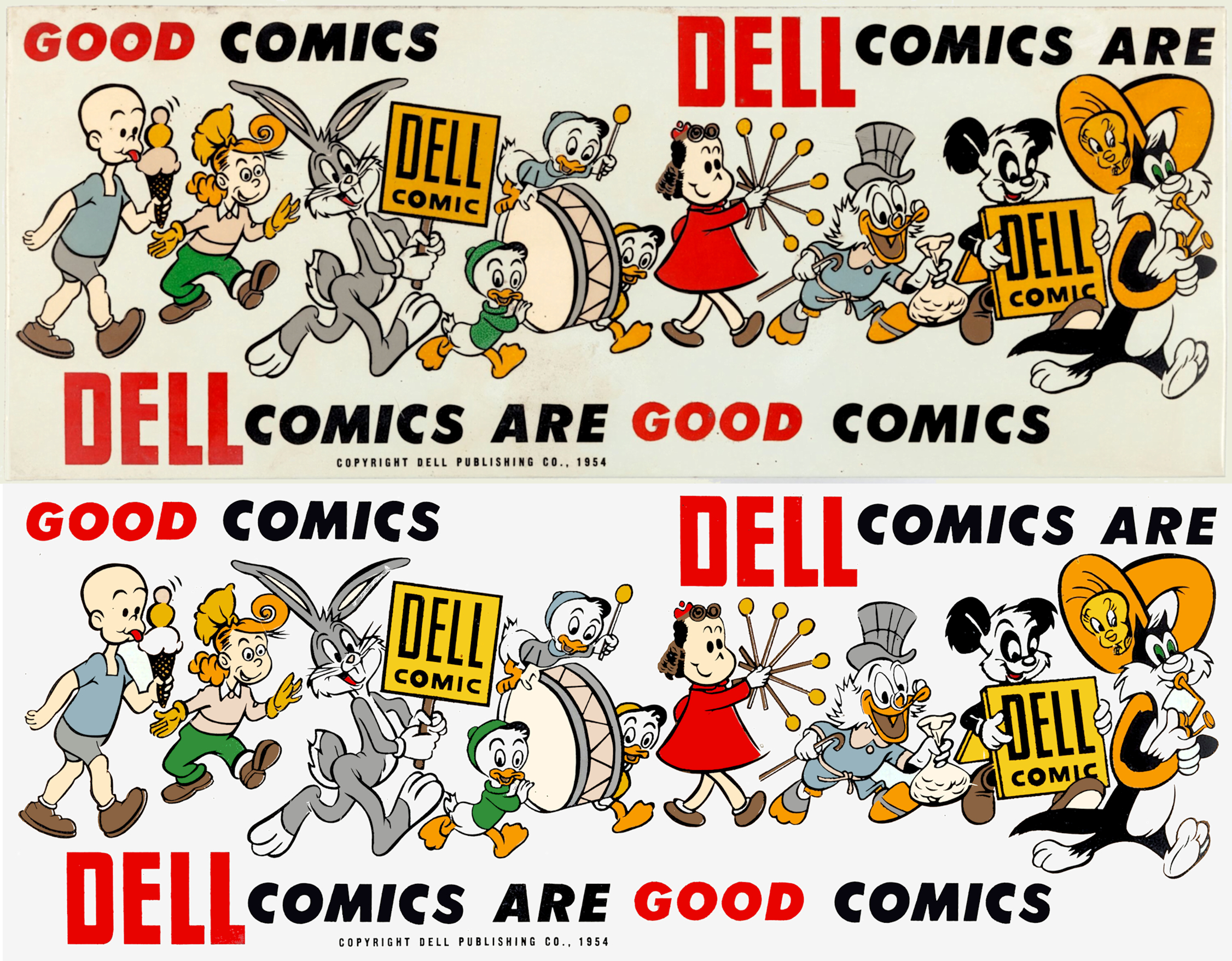 During the 1950s, the Comics Code Authority was created to, effectively, take advantage of some nervousness drummed up by the United States Senate Subcommittee on Juvenile Delinquency, headed by Estes Kefauver. At the time, EC Comics were the most popular books on the stands - Stephen King remembers them fondly. However, a quack psychiatrist by the name of Frederic Wertham decided - without any study or evidence - that Juvenile Delinquency was caused by comic books.

Since then, actual studies and evidence has been gathered, showing that comic book reading has many benefits, including turning some children from reluctant to ravenous readers, giving struggling readers confidence, increasing inference, expanding vocabulary and becoming a valuable accompaniment for other learning disciplines.

But, in the midst of this direct threat to the living and lives of thousands of artists, writers, editors and other employees, the comics industry (save for Dell, above, and EC Comics) were engaged in a self-regulatory bent that would exclude EC Comics and force them out of the comics game. Hence, Mad Magazine was born. At any rate, the Comics Code stamp was used to denote quality and wholesomeness: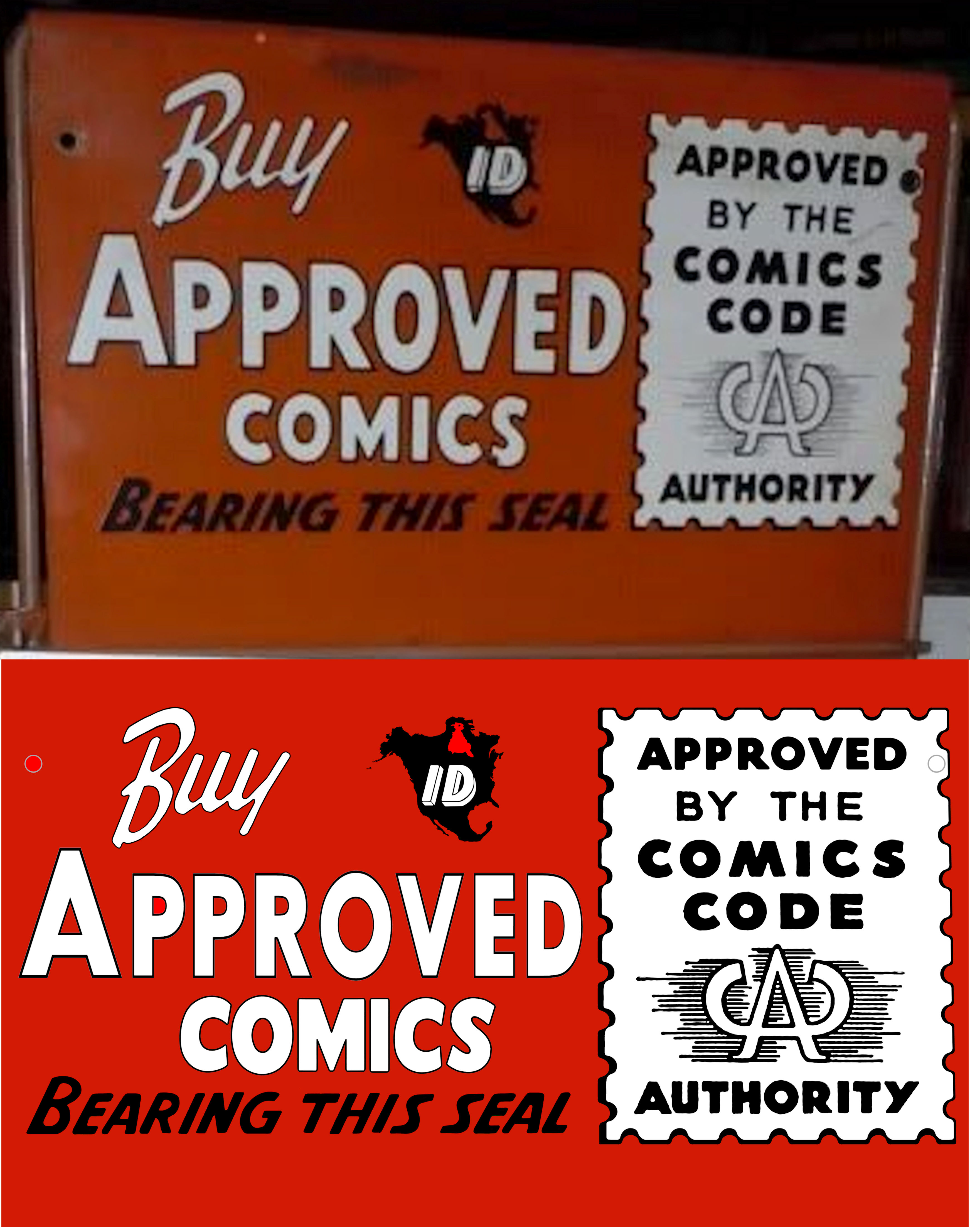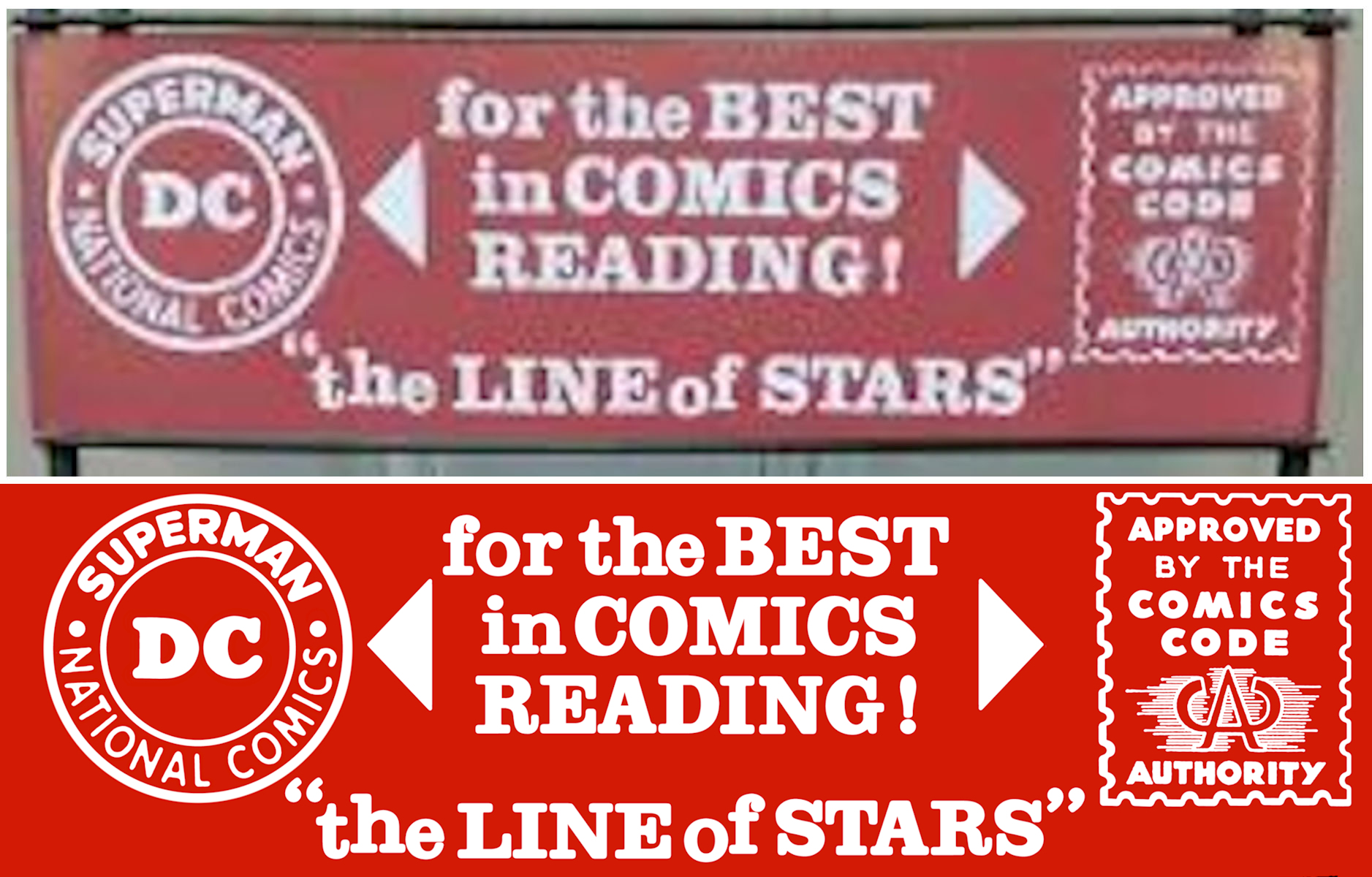 Also, as seen by the example of Dell above, companies spent time extolling the virtues of their own brand as being of the highest quality: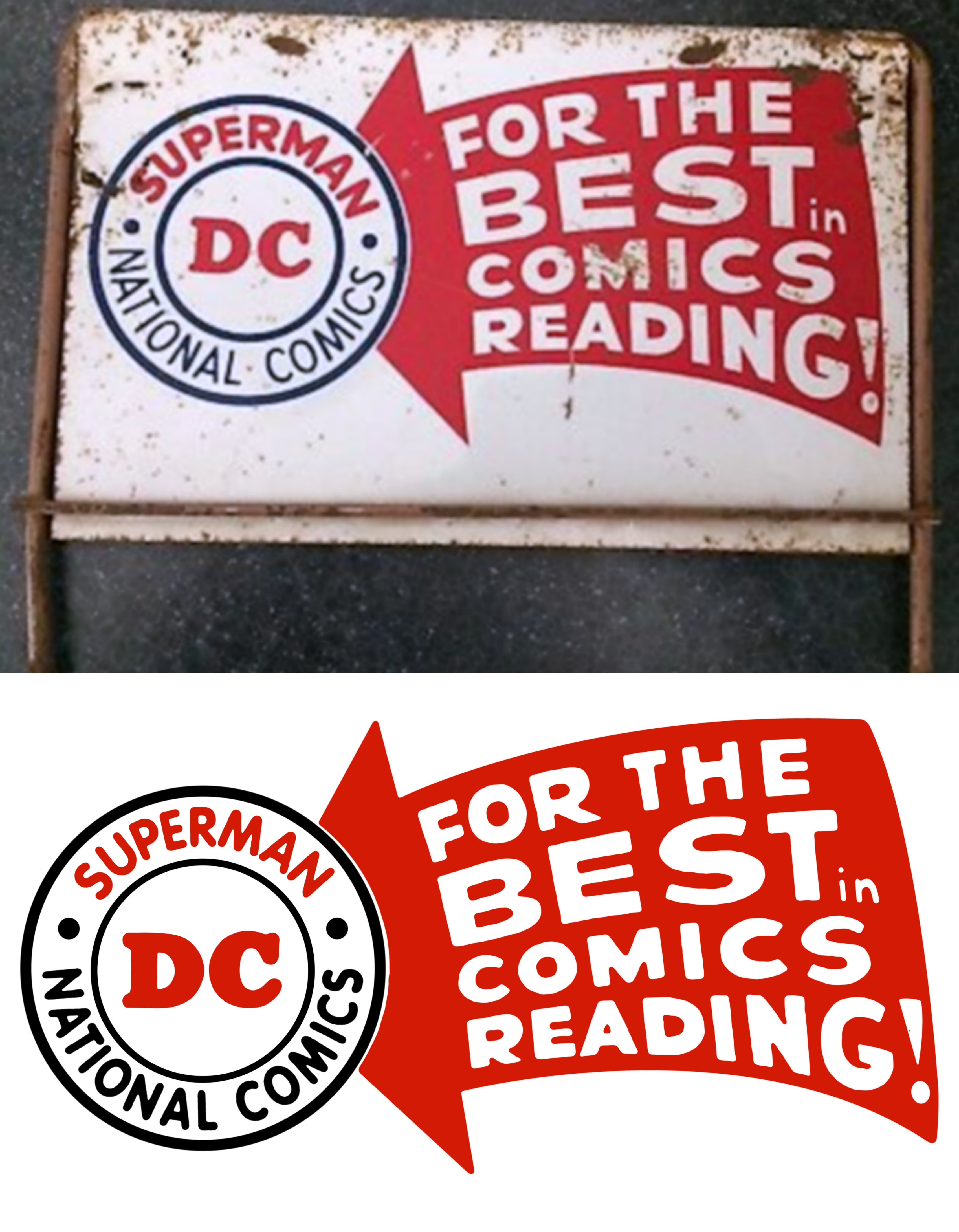 In the 1960s, any hysteria associated with comics had waned and the idea of brand loyalty was taking hold. But the companies also teamed up to self promote as a whole: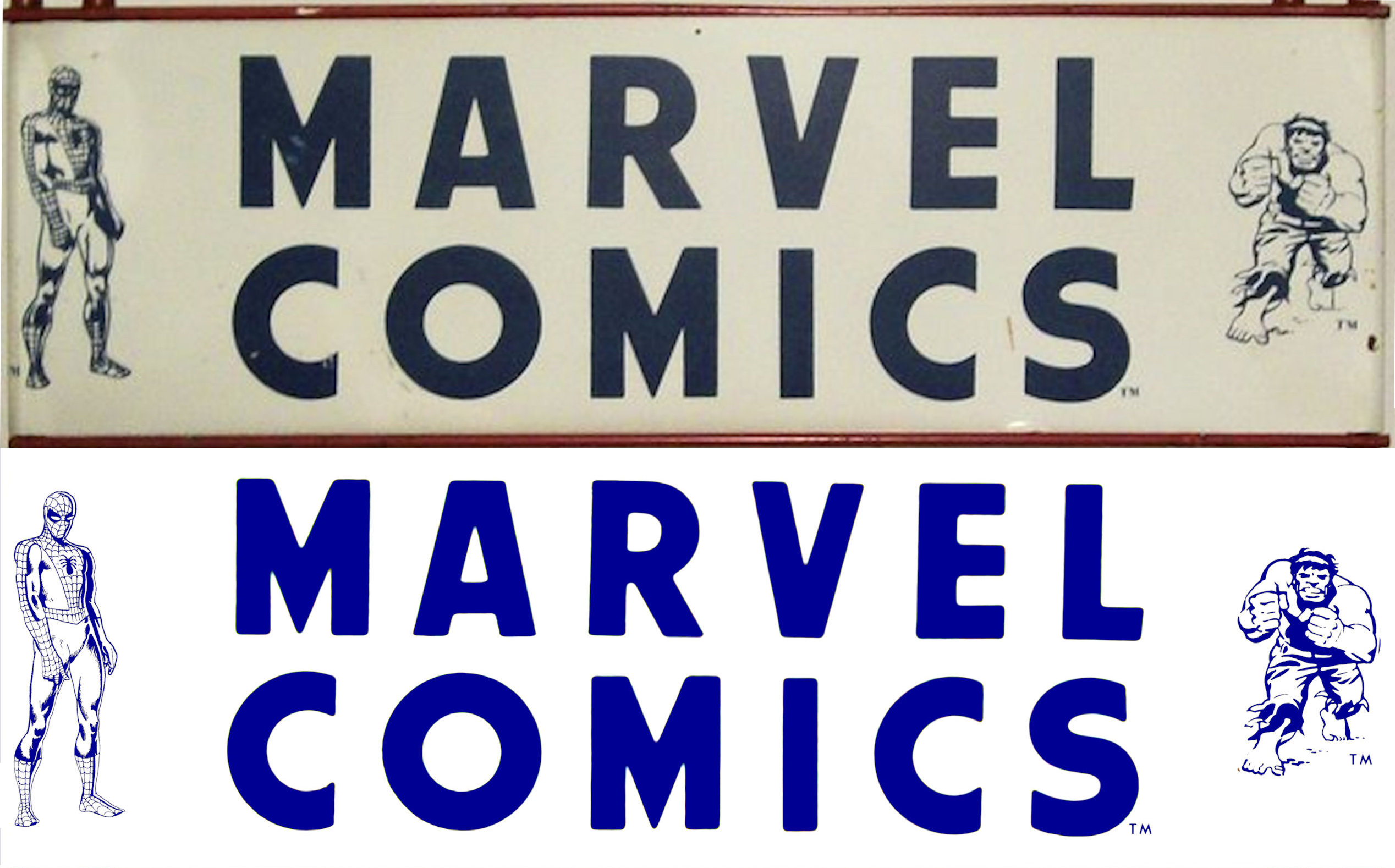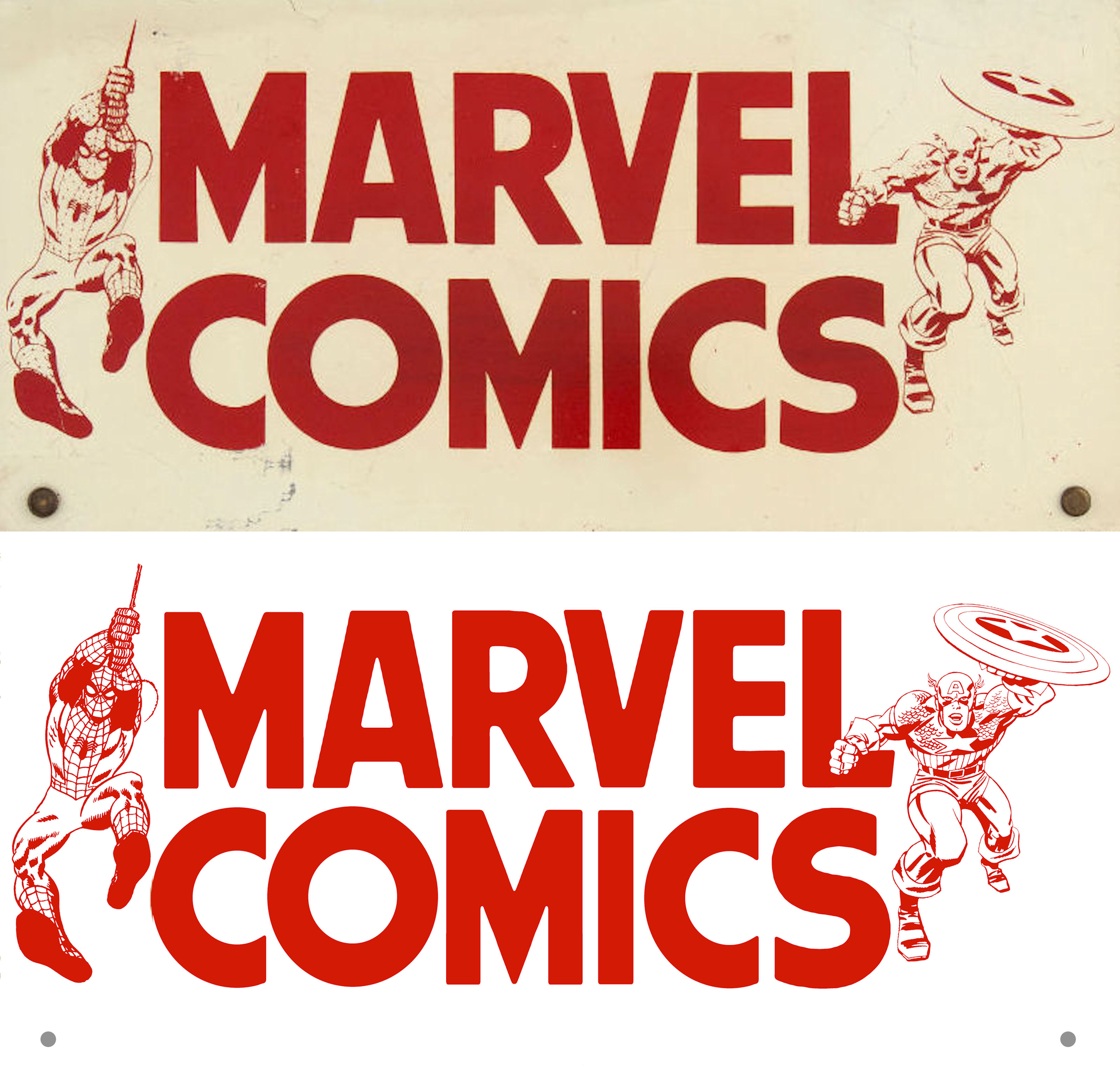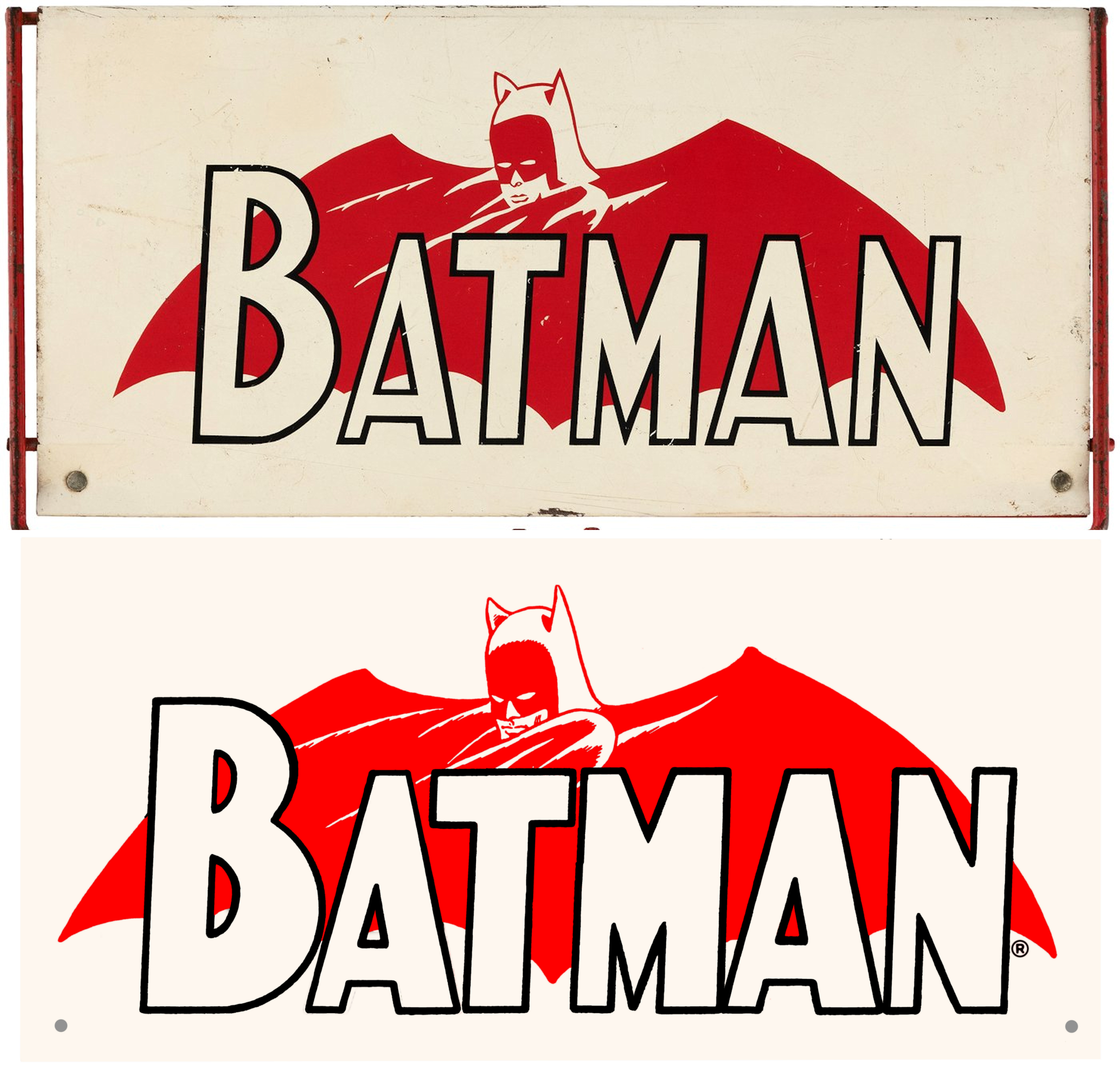 A bit later in the 1960s, in order to battle the lack of space for comics on the newsstands and also provide efficient use of floor space, the comic book spinner rack became more prominent. It provided easy access for kids and retailers alike and has become a signal of a bygone era when comics could be found ubiquitously - grocery stores, liqour stores, pharmacy stores, book stores, newsstands, convenience stores, airports, bus depots and a whole host of other establishments where kids could be found. Our Webmaster used to own one, himself, but sadly let go of it upon becoming a teenager. This first example is our Webmaster's personal favorite and was popular across the United States from the late 1960s to the end of the newsstand era and called out to kids from across the room: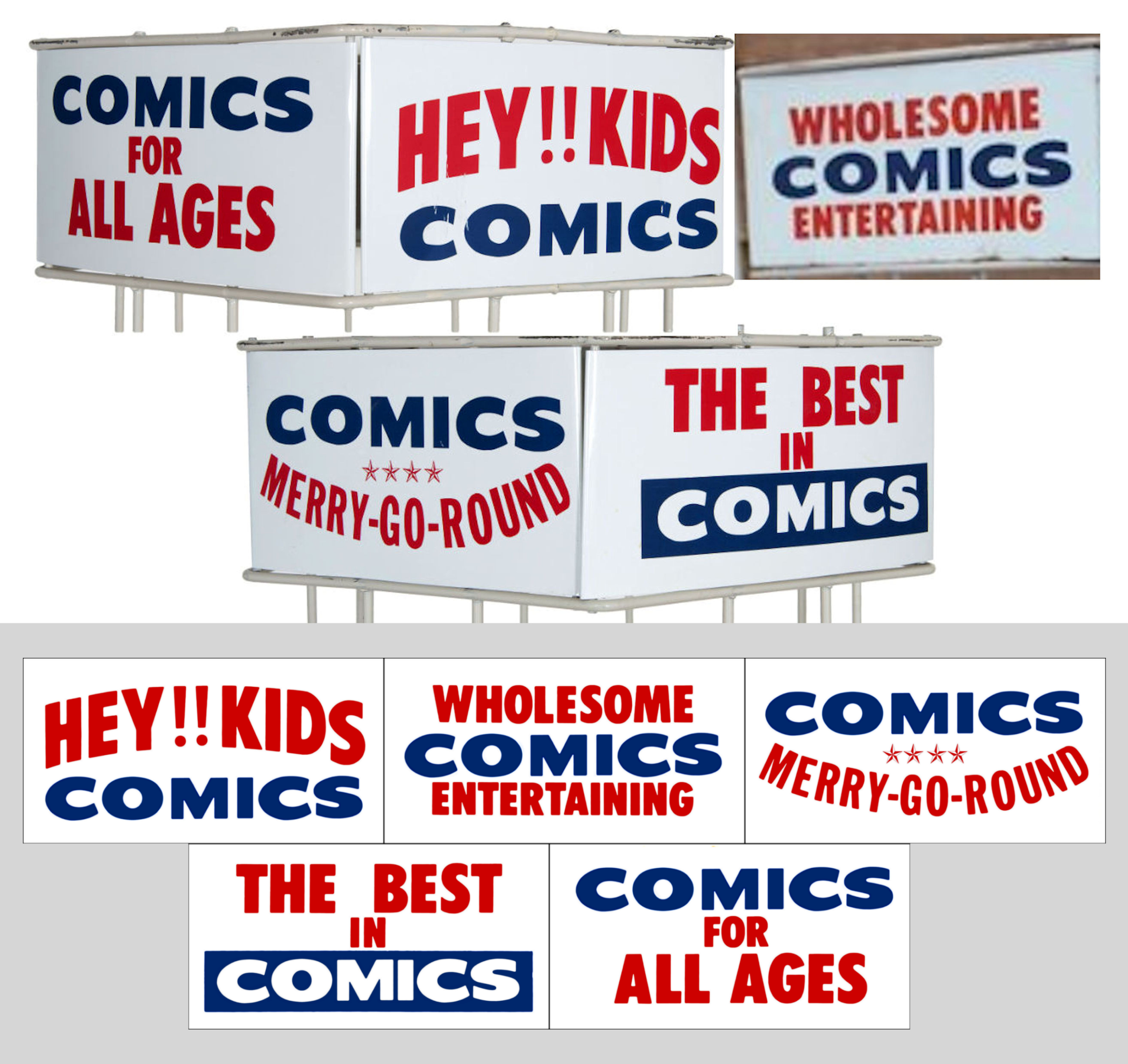 As was historically typical, the brands got into it, as well - here, we have an attempt for Harvey, Marvel, Archie and DC to assist with the cost of a spinner rack while getting their most recognizable products on the signage in return. If not with mixed results. Note the poor use of space, reducing the "advertisement" to about 50% of the image real estate. Also note that not one recognizable artist's work was present, here - it appears that a "cartoonist" provided the images - but the only one that turned out decently was Richie Rich - the rest are pale imitations: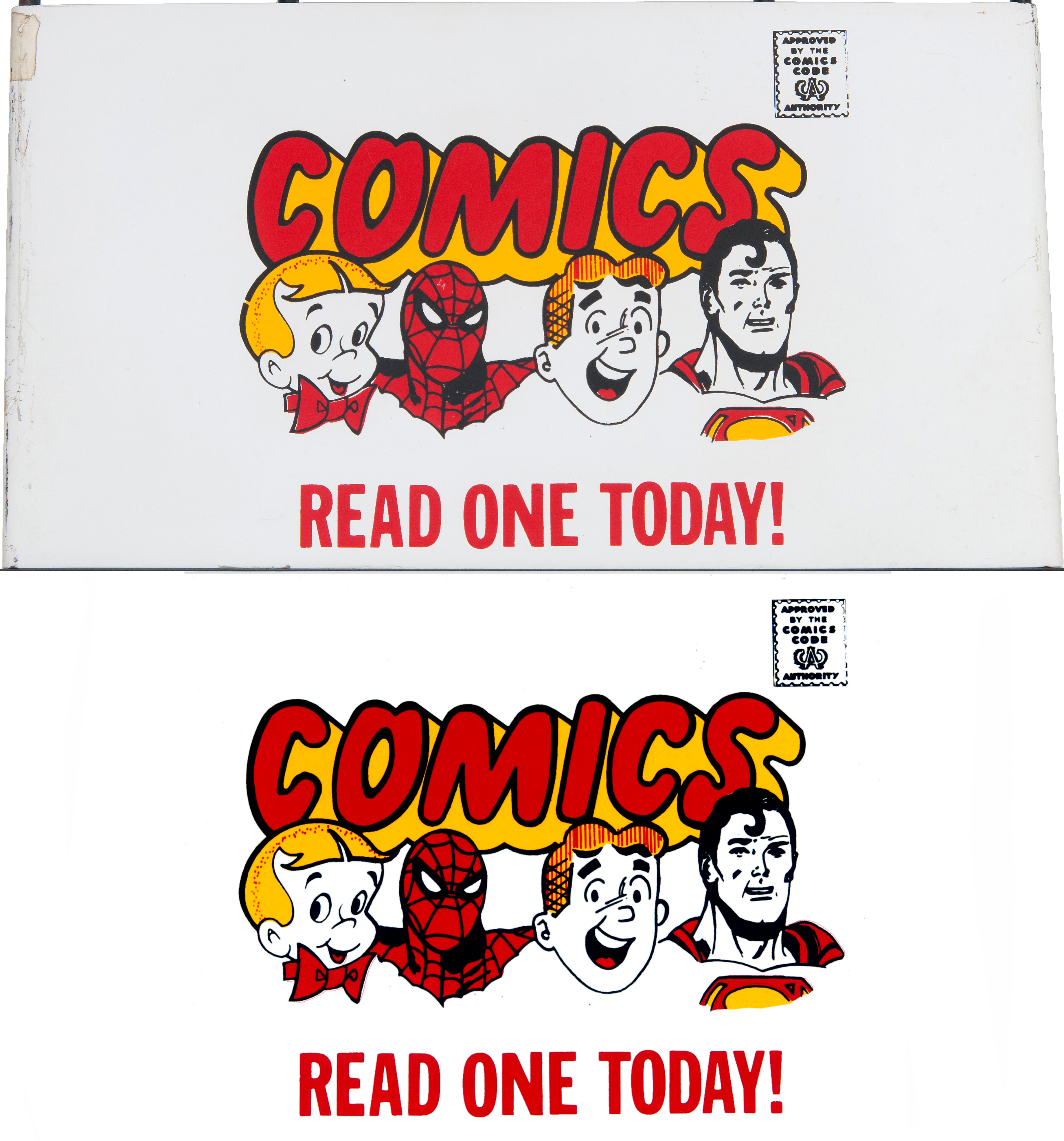 We can do better with the space available, can't we? Here's another pass at it: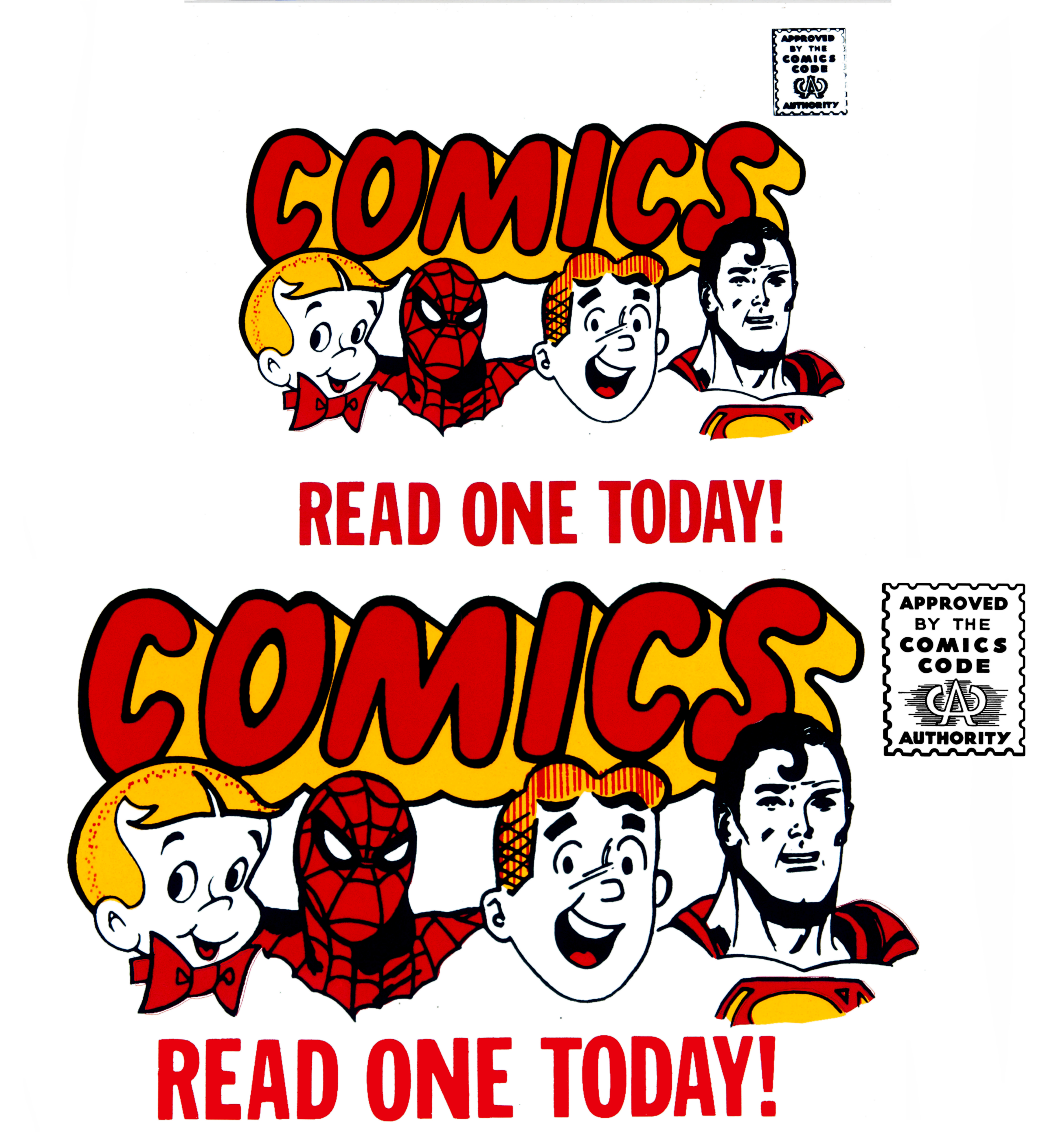 Also, Superman looks positively anemic, here. And there's no reason not to at least use a Ditko Spider-Man, so we get the following: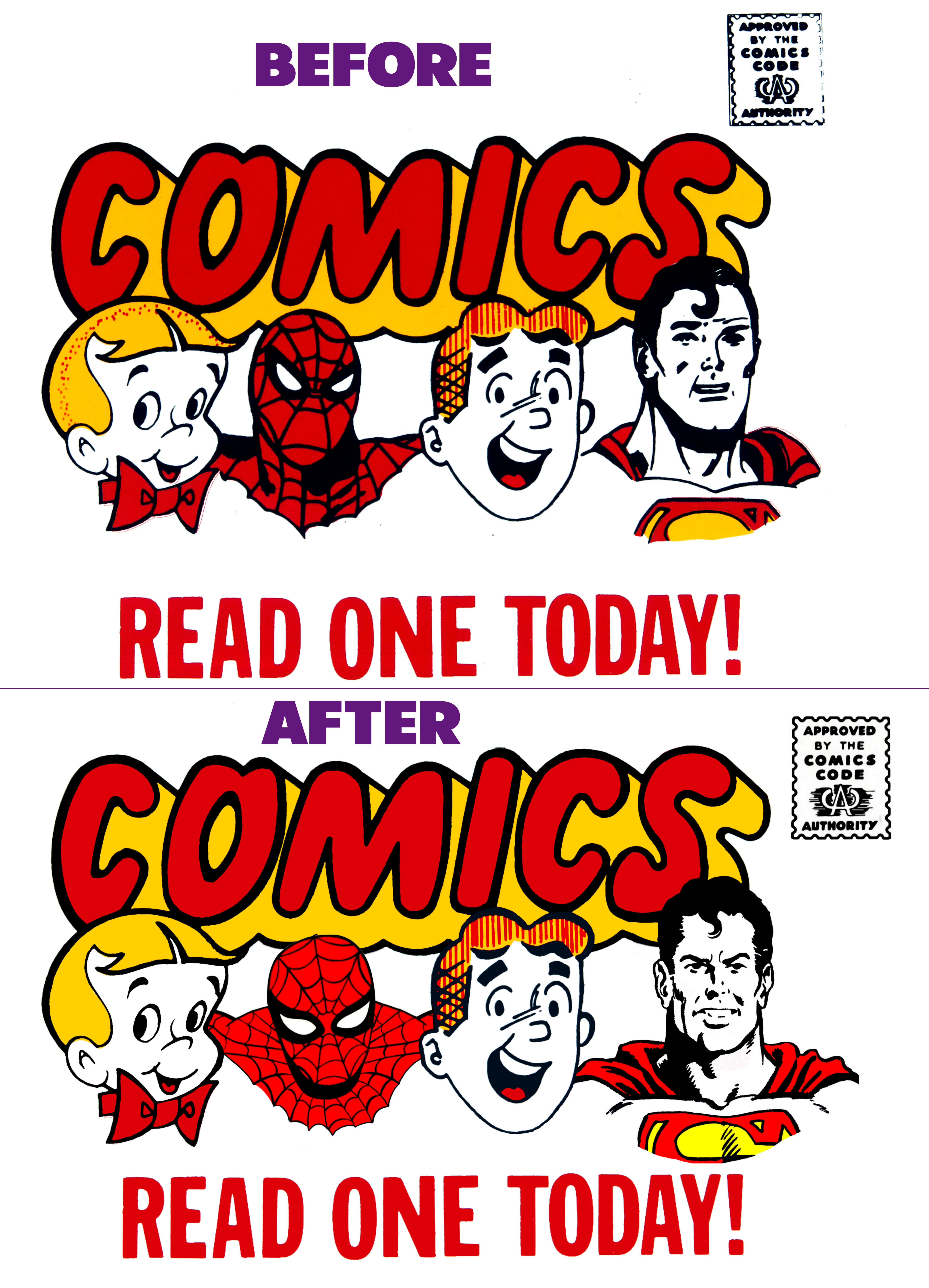 That seems, commercially, more palatable. That being said, it appears that DC decided they weren't going to continue to pay for the anemic Superman and in the 1970s substituted a José Luis García-López headshot, instead: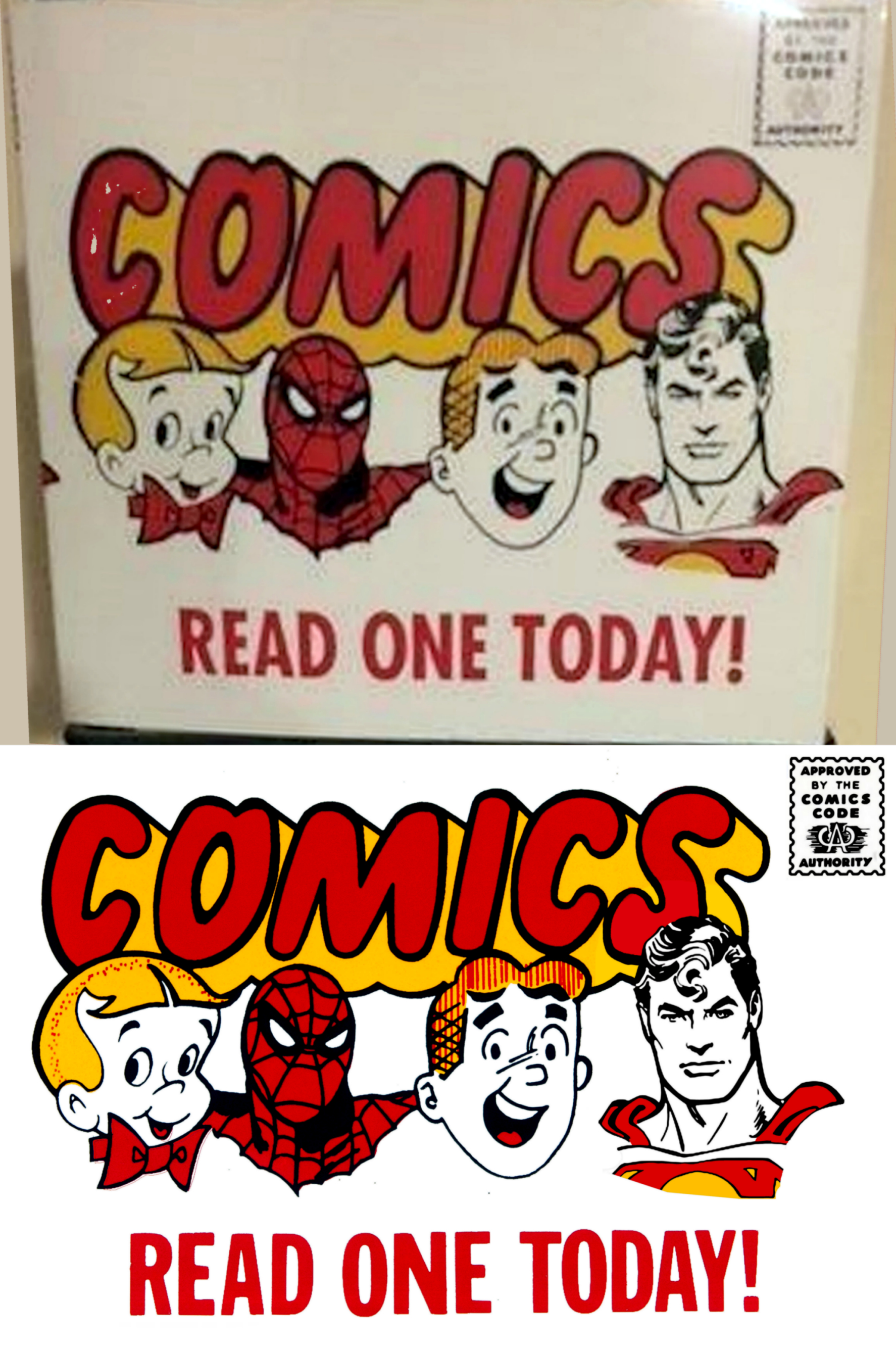 Now, our Webmaster can't say that Archie fared a great deal better in this bargain. And at the request of a forum member over at the CGC Comics Forum, our Webmaster created the following All-Archie banner: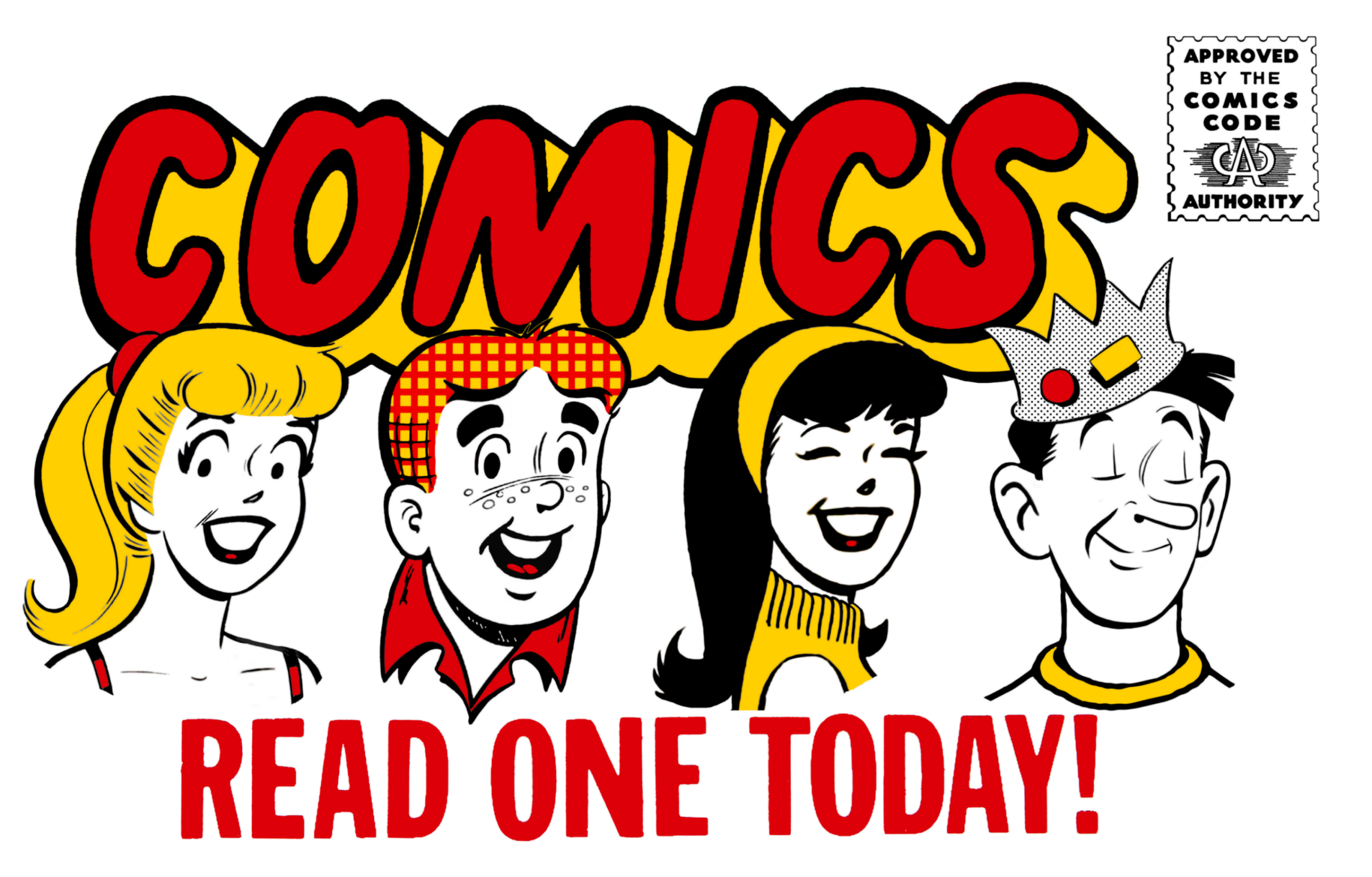 There are other examples, but this one is one of our Webmaster's favorite to work with. First, our Webmaster restored it to a higher resolution level by utilizing original art and our Webmaster's own recreation of the early 1973 DC bullet created by (now Hollywood producer) Michael Uslan: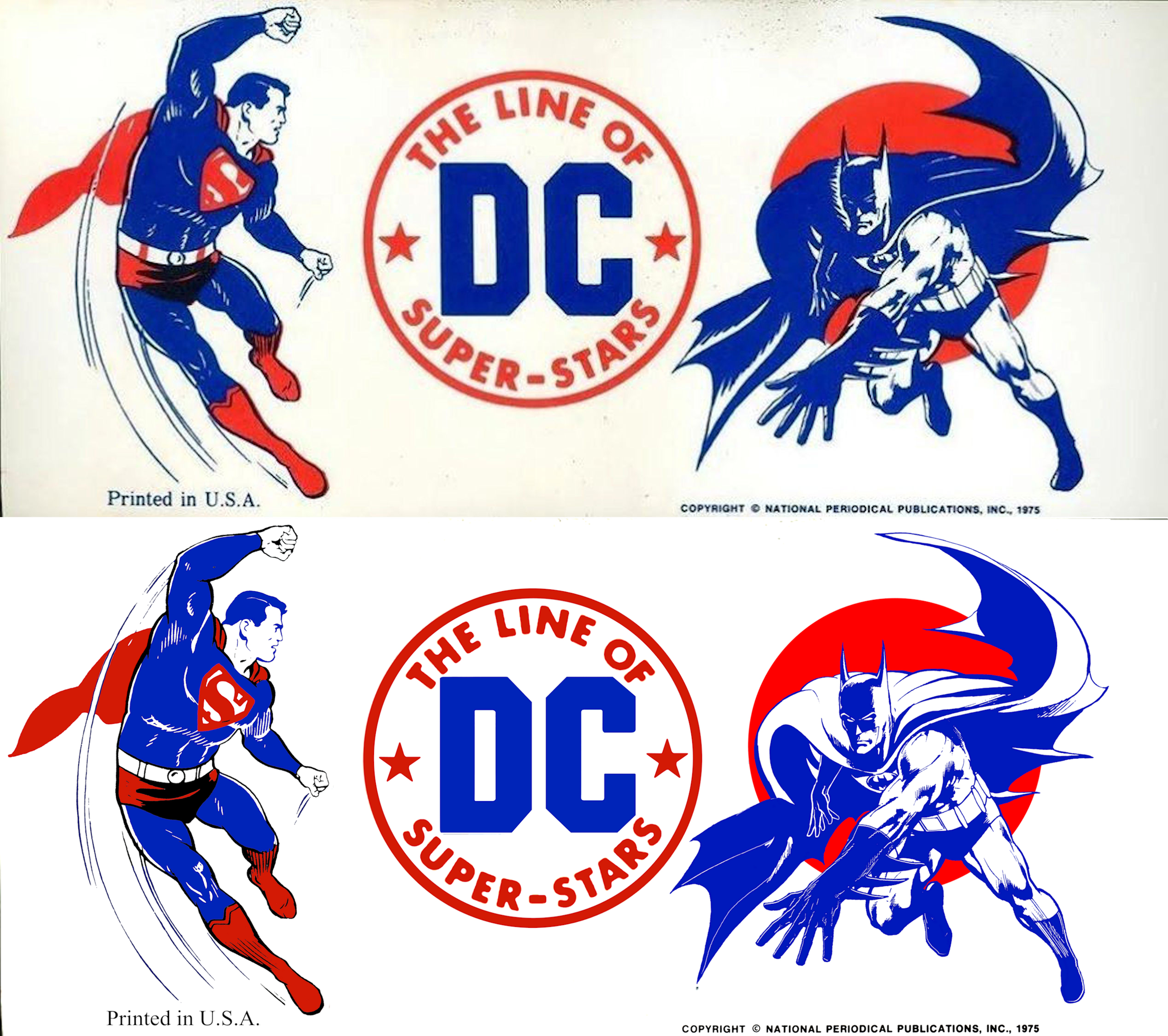 Being that this was created in 1973-1974, there was no reason to use the old-style cartoony-looking Curt Swan Superman from the 50s & 60s, as Swan had long-since demonstrated every bit the draftsmanship that Neal Adams (Batman figure) had. Being that our Webmaster couldn't find an epic enough figure of Batman by Swan and Murphy Anderson, our Webmaster decided to just go with the 1971 cover for Superman #233 by Neal Adams, so that both sides were equally represented - please understand that our Webmaster is not an artist and that working out the negative and positive fields with only 3 colors available was quite a challenge, so please be kind:
As much love as we have for these great racks and their signage as we are, we're still on the lookout for a vintage 1960s/1970s spinner rack (the "Hey Kids Comics" version). If you know of one, please feel free to E-mail [email protected] - any leads would be appreciated!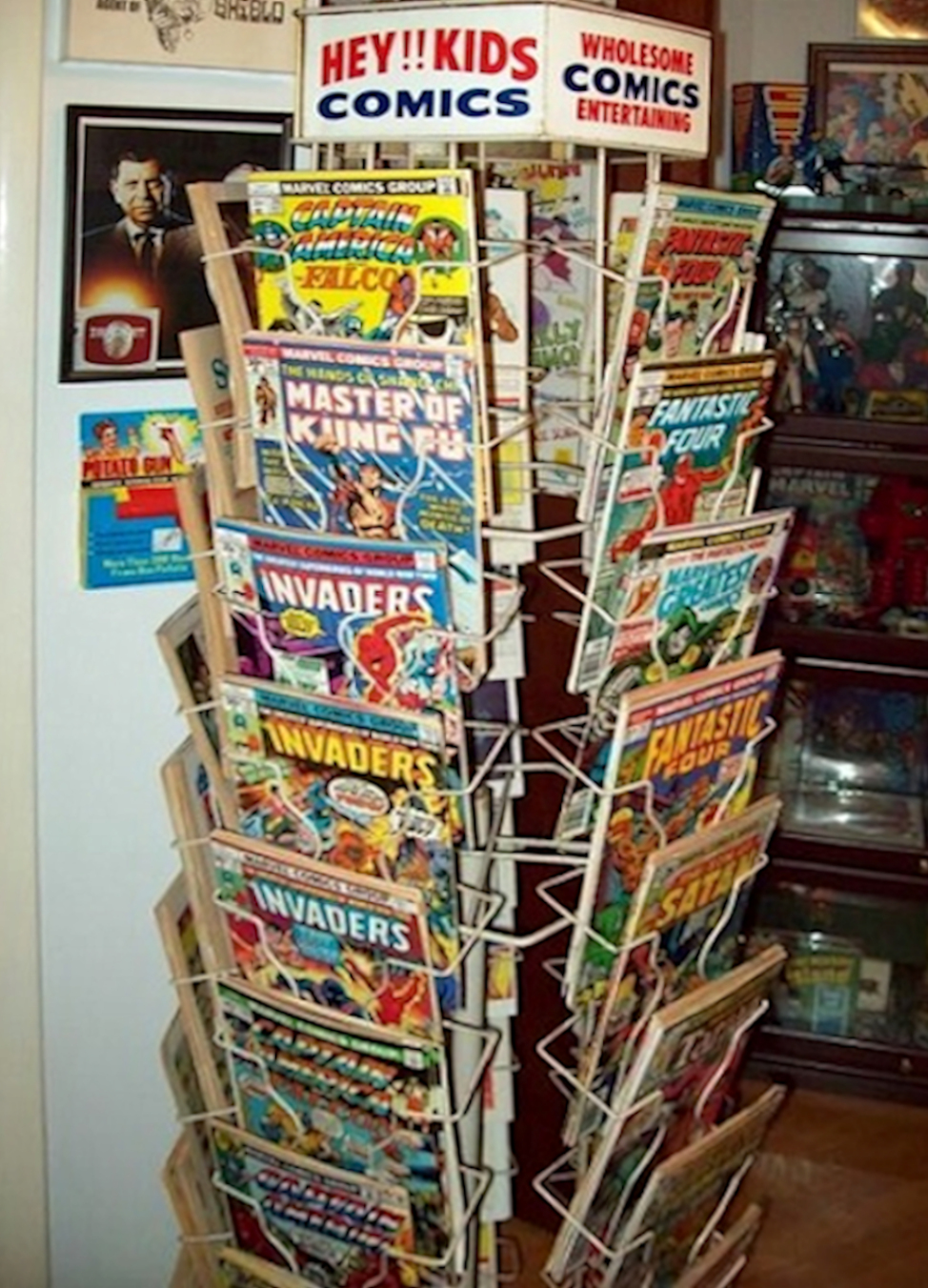 Hope this was a fun trip for you!
Please take a moment to look at our other pages!
BACK TO COMICS MAIN PAGE
DC ANIMATED UNIVERSE (DCAU) VIEWER'S GUIDE - NEW!
SPINNER RACK REMEMBRANCES - NEW!
COMIC BOOK PIETA COVERS
WITH ONE MAGIC WORD... SHAZAM! THE RESURRECTION OF THE *ORIGINAL* CAPTAIN MARVEL! - UPDATED 06/2022
TWO CAPTAIN MARVELS? WHAT GIVES?? - UPDATED 06/2023
WHEN DOES THE BRONZE AGE BEGIN?
DC's BRONZE AGE CHARACTER BULLETS - UPDATED 05/2023
THE JSA & OUR IMAGE RESTORATION PROCESS - UPDATED 09/2022
RESTORING DAVE COCKRUM'S LEGION OF SUPER-HEROES - UPDATED 01/2021
THE AMAZING OUTFITS OF SUPERGIRL! - UPDATED 04/2023
SUPERMAN'S SYMBOL, SHIELD, LOGO AND ITS HISTORY! - UPDATED 06/2023
DC 100-PAGE SUPER SPECTACULAR - WORLD'S GREATEST SUPER-HEROES! - UPDATED 11/2022
THE AMAZING WORLD OF DC COMICS INDEX - UPDATED 01/2023
A BRIEF HISTORY OF THE MARVEL UNIVERSE - UPDATED 10/2022
BRIAN G. PHILBIN'S GUIDE TO THE BASICS OF COMICS, COMICS HISTORY, COMIC COLLECTING AND COMICS VALUES

All characters mentioned within these pages and associated images are © and ™ of DC Comics, Inc. TARZAN is © and ™ of Edgar Rice Burroughs, Inc. If you have any question, comments or other items of interest to this page or DC Comics or the Bronze Age or what-have-you, please feel free to E-Mail Brian G. Philbin. All items which are highlighted in blue text and underlined are links to the named item!
Text content is Copyright 1999 Brian G. Philbin