The comic industry has a long history with the trope of one character emotionally carrying or holding another, presumed dead, in their arms. It's a gripping image, and in classical art one would typically point to "The Pietà", an image in marble of Mary cradling Jesus' body after being removed from the cross - by none other than Michelangelo.
I'm not attempting to create an entirely complete list, but I do want to exhibit the range and reach of this type of cover, as well as the power of this type of scene. So there will be quite a few examples, here. My thanks to the Grand Comics Database for their cover galleries, allowing me to browse multiple covers from the same period at the same time. Always a great tool for research.
The most deliberate of these is Jim Starlin's cover to "The Death of Captain Marvel", but the tradition goes back much further.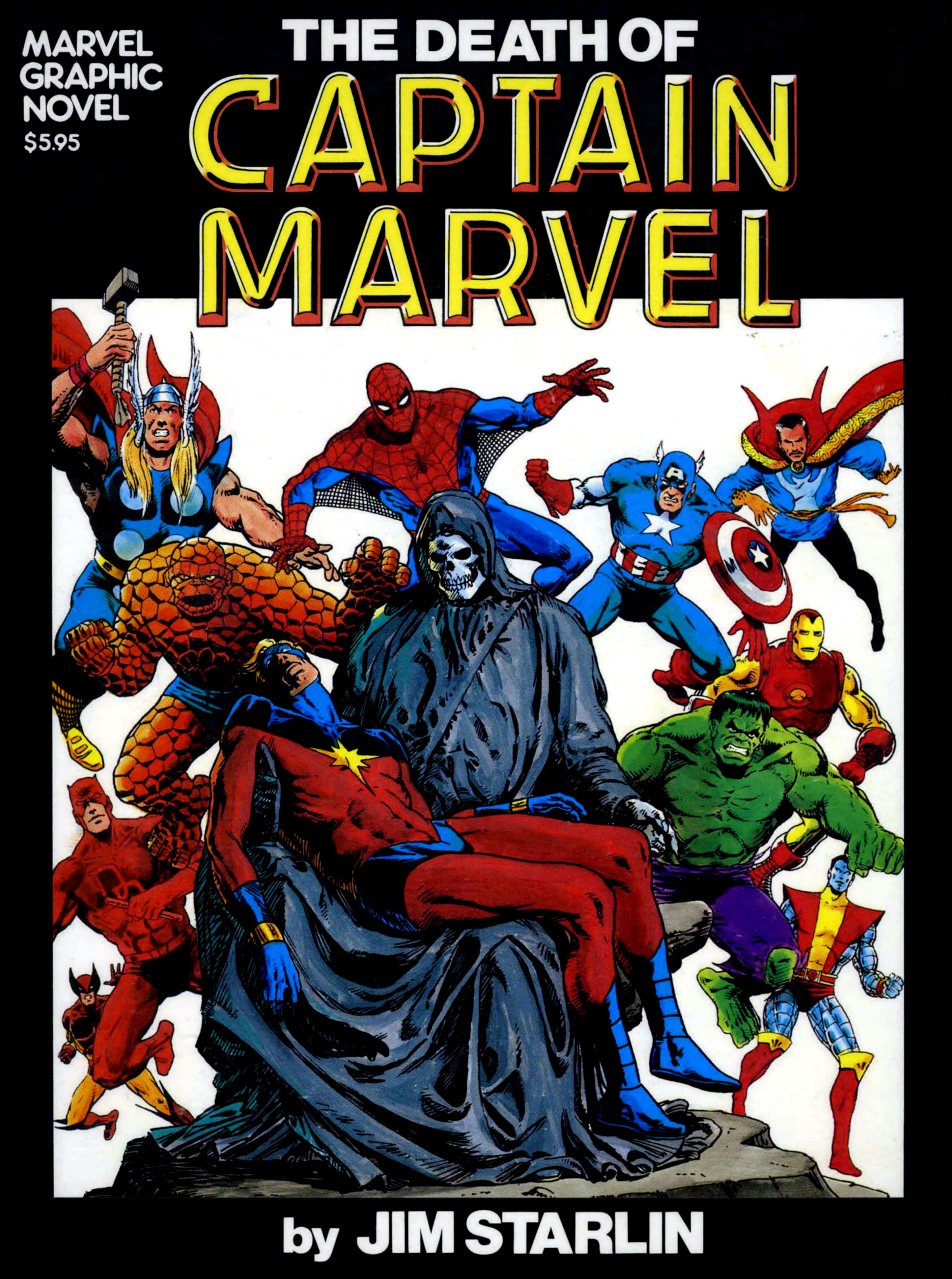 One of the earliest of these that I've been able to locate is a Sheldon Moldoff cover for Batman #156, published in 1963. One earlier example will be displayed below.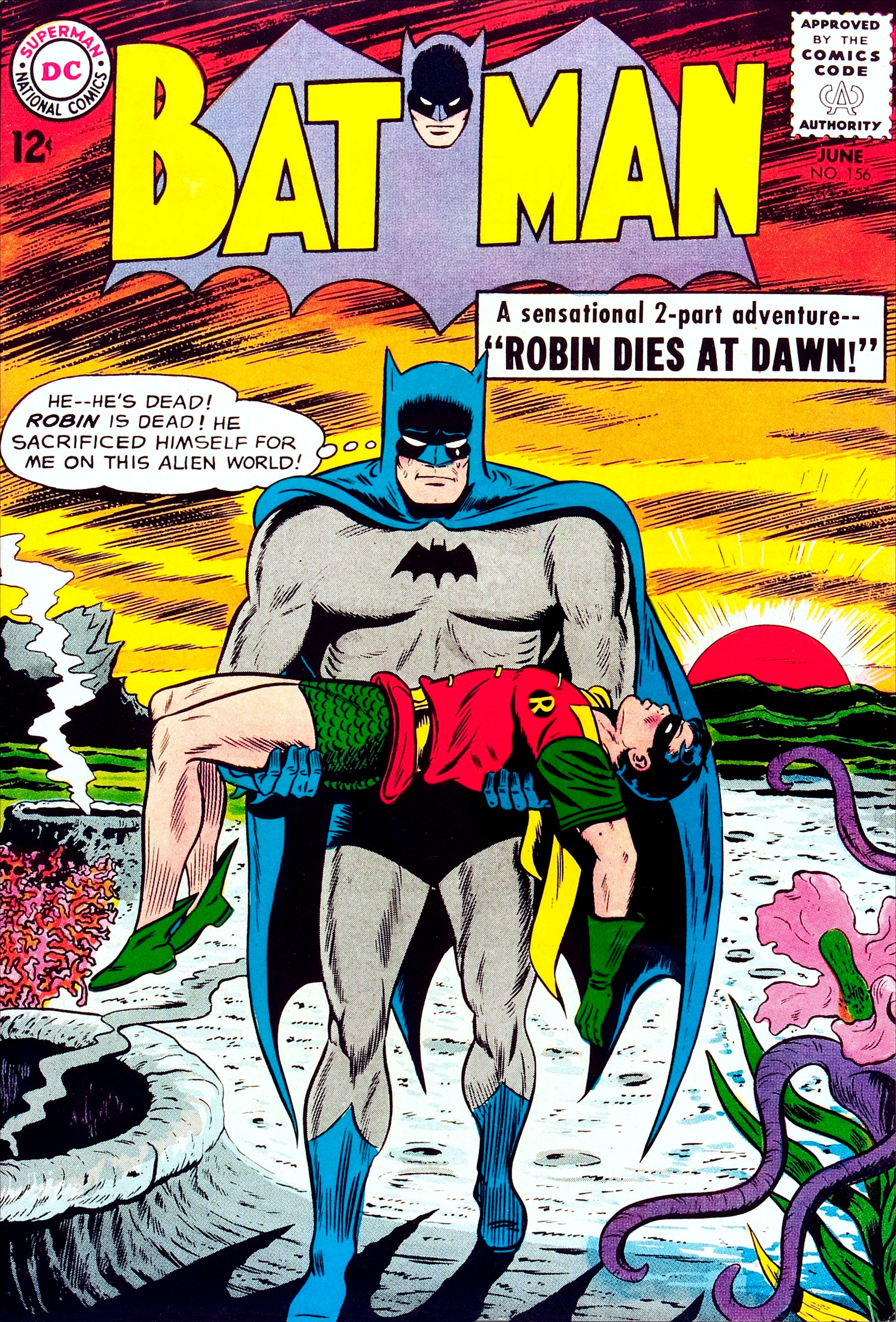 And there are many in between and after these two images that make this a trope that doesn't get noticed all that often. Not until a high-profile cover gets fans to take notice with claims of "swiping" thrown around. It's all well and good for friendly discussion, but this is a well-trod area of comics covers, as we'll see as we continue. One of the more well-known covers not only found itself immersed in this type of discussion/accusation in the pages of the "Comics Buyer's Guide" which, at the time, was the place where comics fans and professionals came together and discussed these subjects. With letters (sometimes handwritten) sent through the mail. This discussion quickly escalated and then after multiple examples arised, everyone realized that it had, indeed, been used quite a bit prior to George Pérez and John Byrne's classic covers. Then, the parodies came. Here are the two covers that began the discussion: Crisis on Infinite Earths #7 and X-Men #136. The former was published in July 1985 and its similarity to the May 1980 X-Men cover was immediately noted.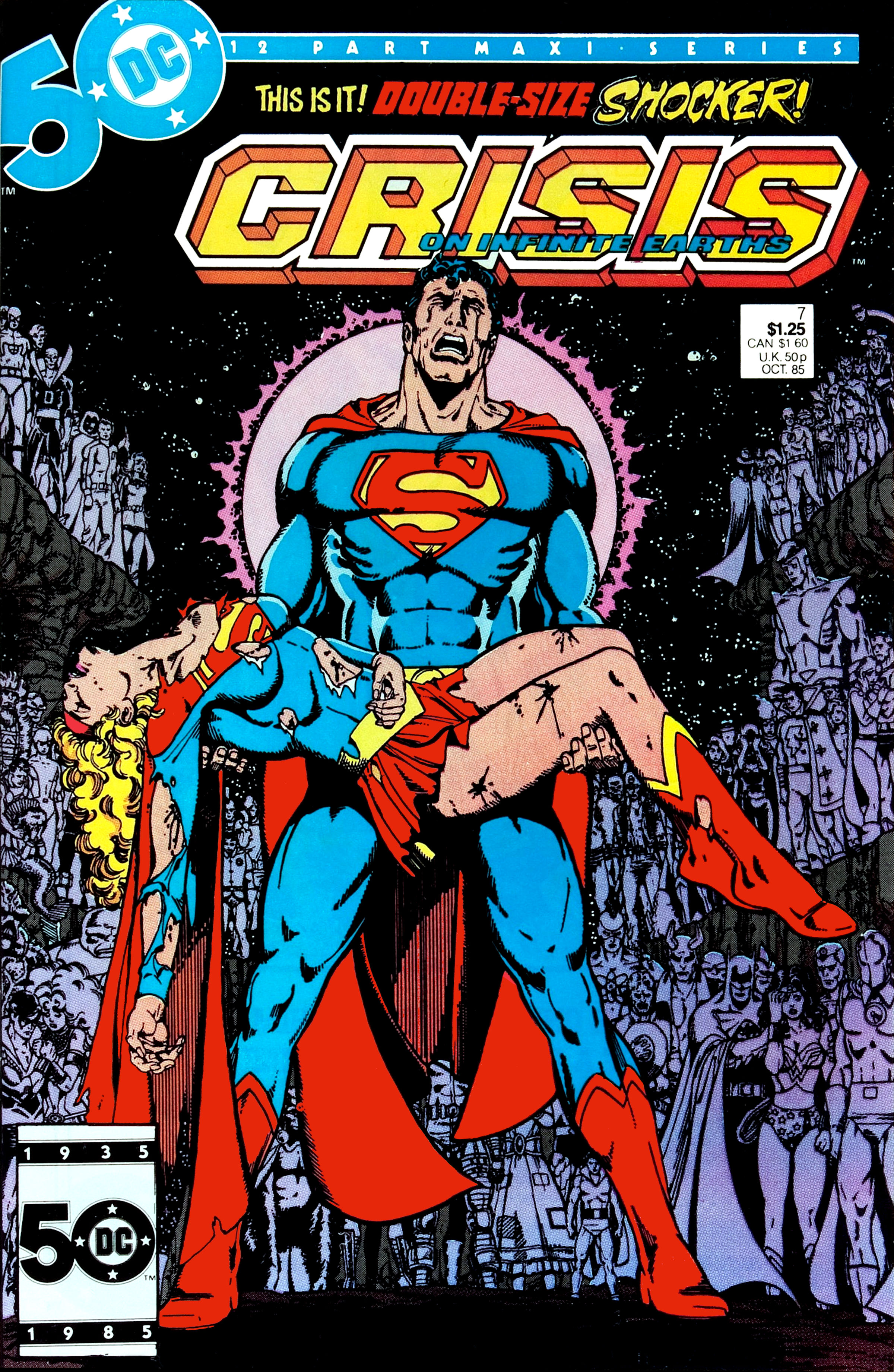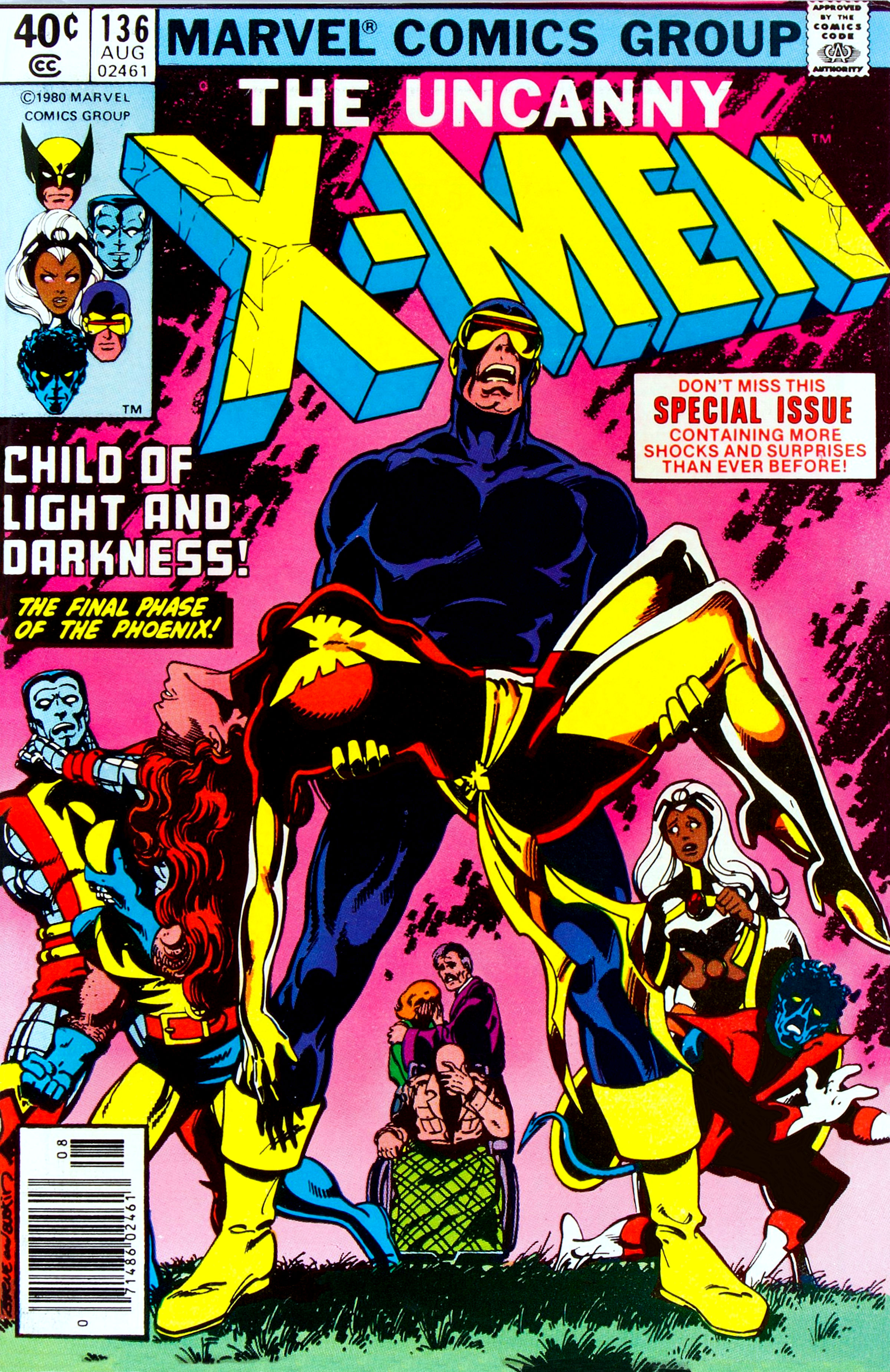 George Pérez had done this type of cover before (as some other notable artists had) - for both Tales of the Teen Titans #45 (April 1984) and the Keebler Drug Awareness issue of the Teen Titans from 1983: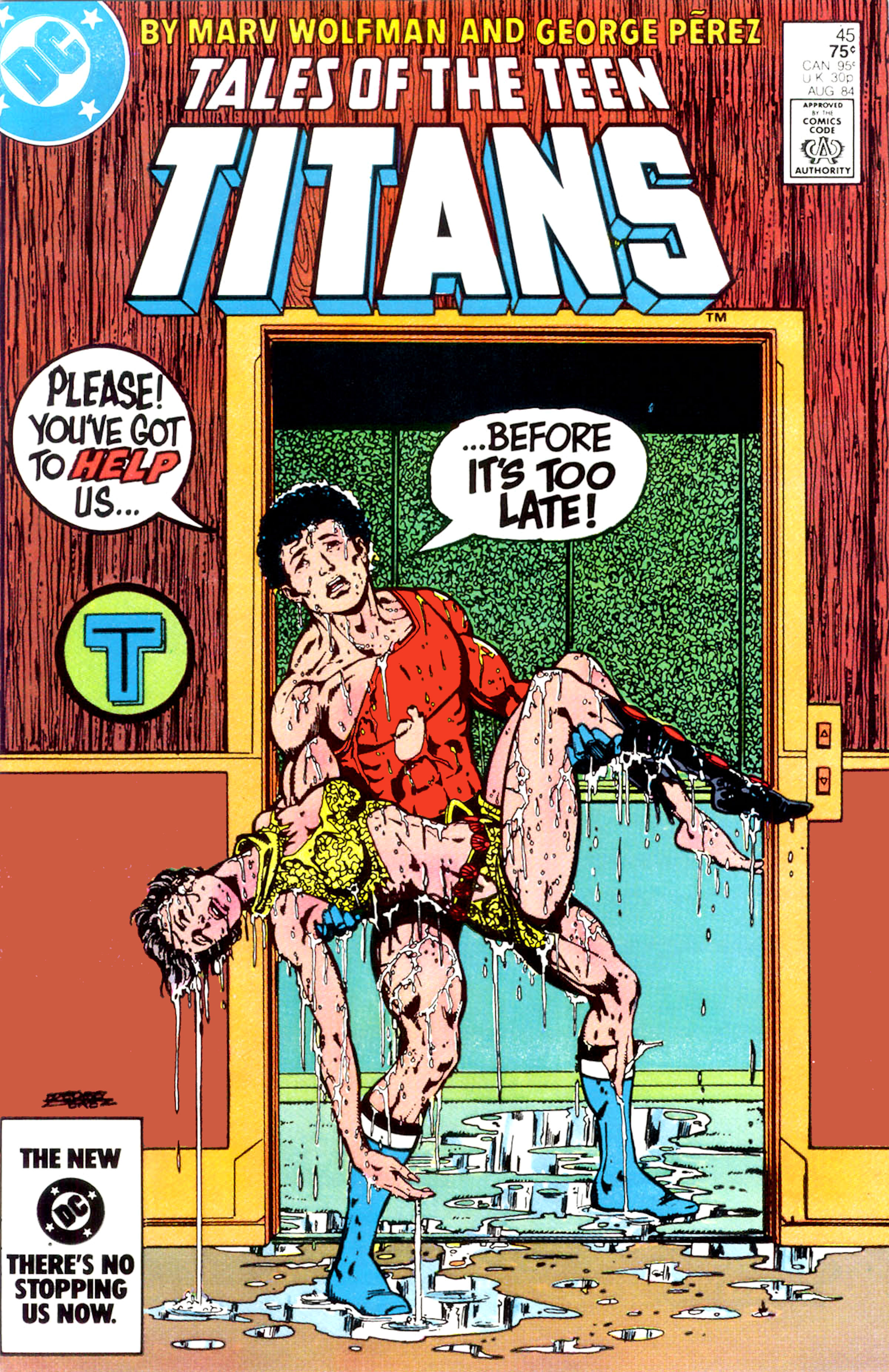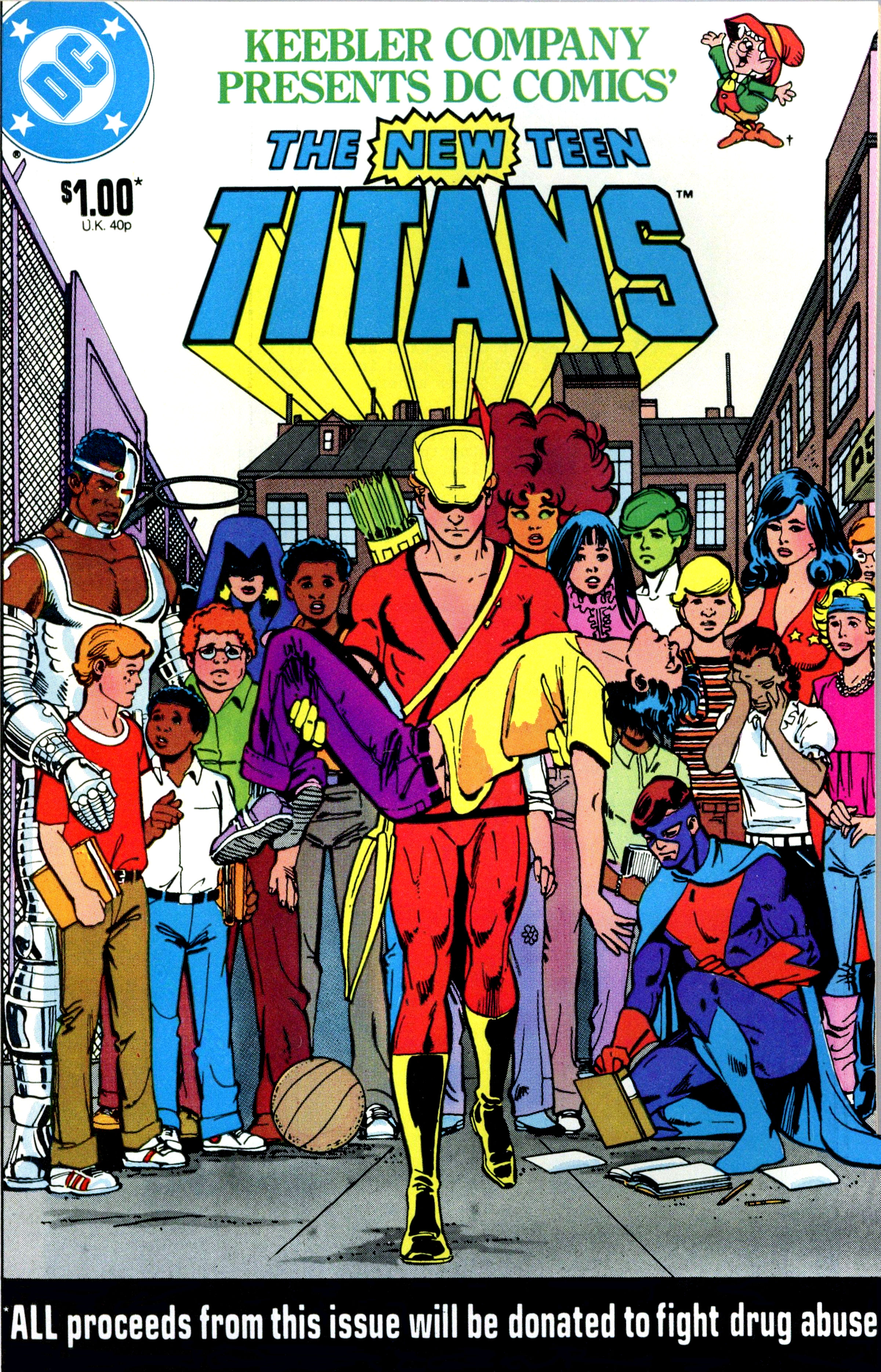 Historically, the next issue after Batman #156 that I know of is probably the hardest-hitting cover of its time. Our Army at War #167 from 1966 was one of those Joe Kubert covers that just sticks with you. The image, itself, could stand on its own, without text:
According to Heritage Auctions, this next one is extremely rare to see - a beautiful LB Cole cover for Catman Comics #31, from 1946. I'm not familiar with this one and the scene isn't exactly what I'm describing, but it's definitely close enough to the type of cover we're looking at.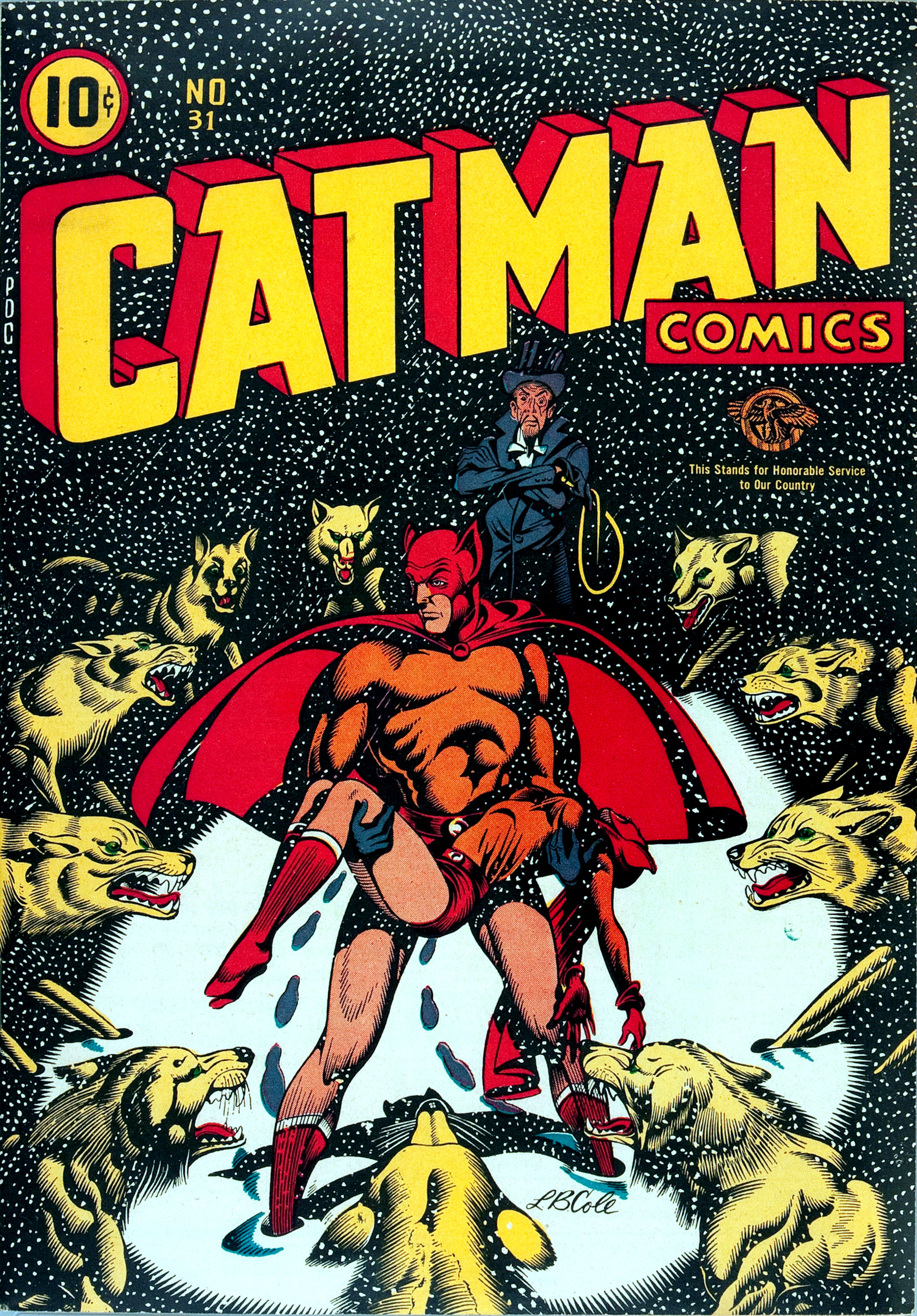 As I'd mentioned previously, other notable artists have breached this territory more than once. Here are two examples from Neal Adams - Justice League of America (Vol. 1) #91 from June 1971 and Green Lantern/Green Arrow #86 from two months later in August of 1971.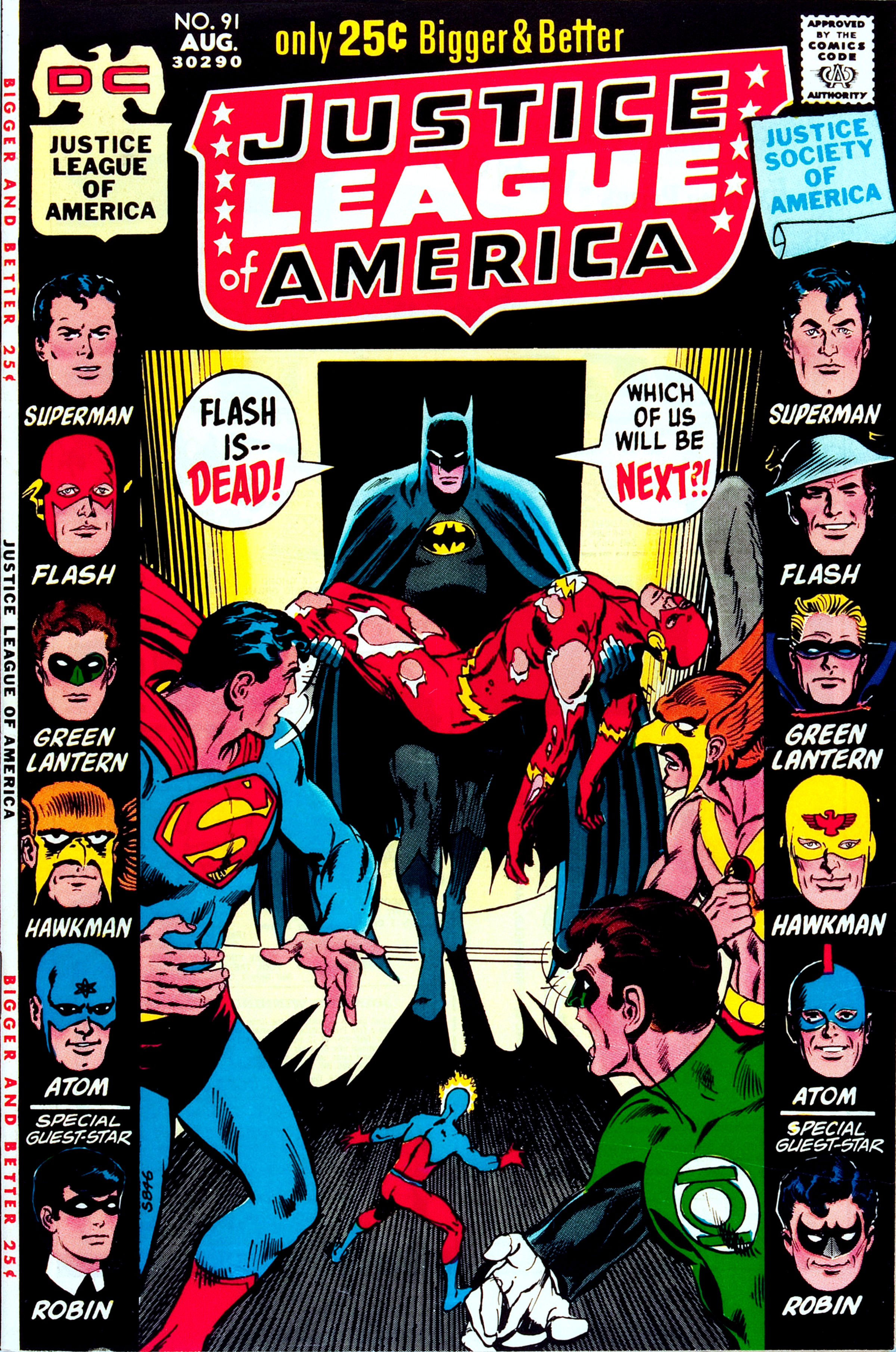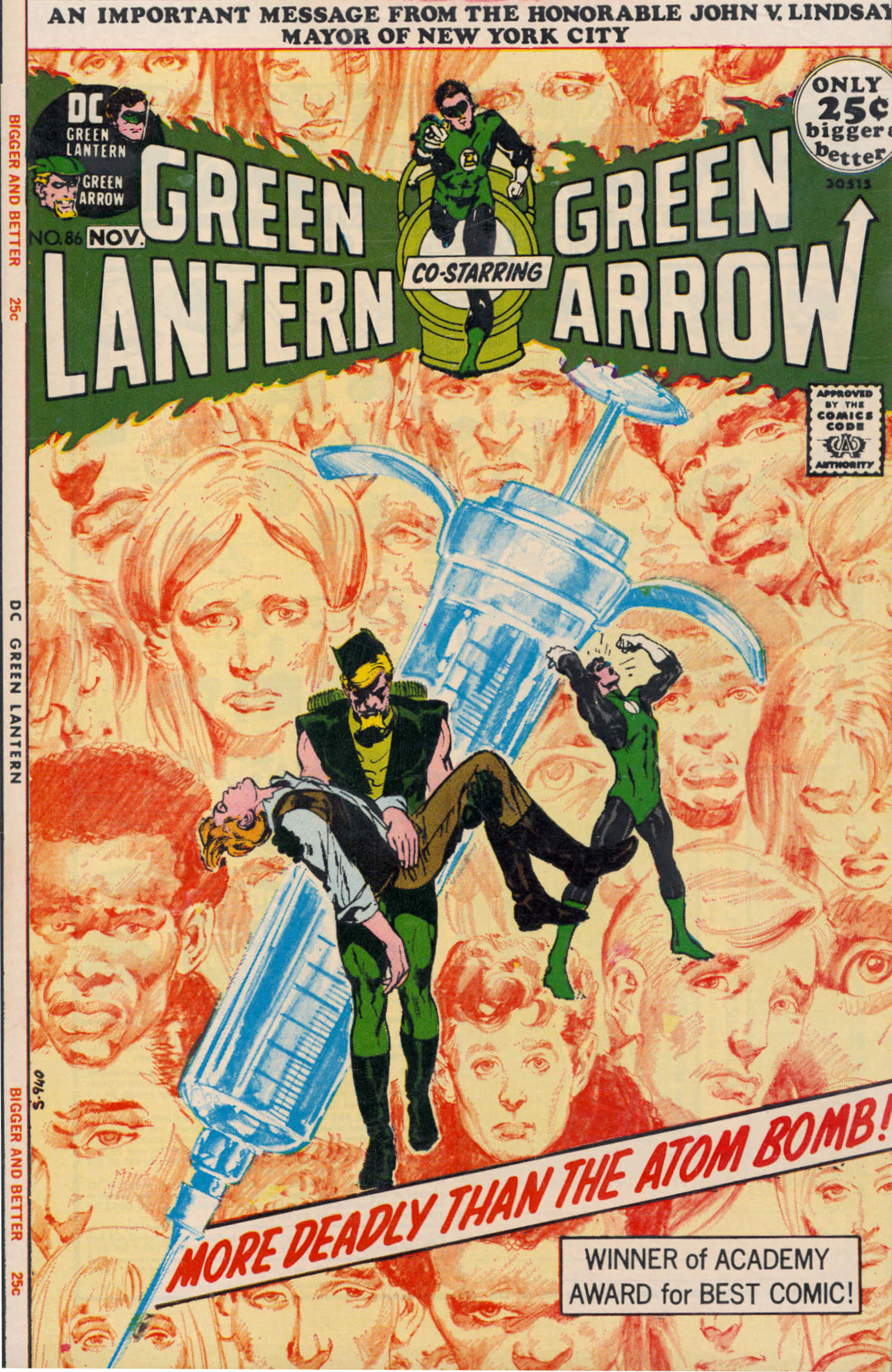 In addition to artists having done this more than once, here's an example of the Lois Lane title utilizing the approach in the same title just 26 issues apart. The first by Curt Swan & Murphy Anderson (Swanderson, May 1970) and the second by Bob Oksner (October 1972):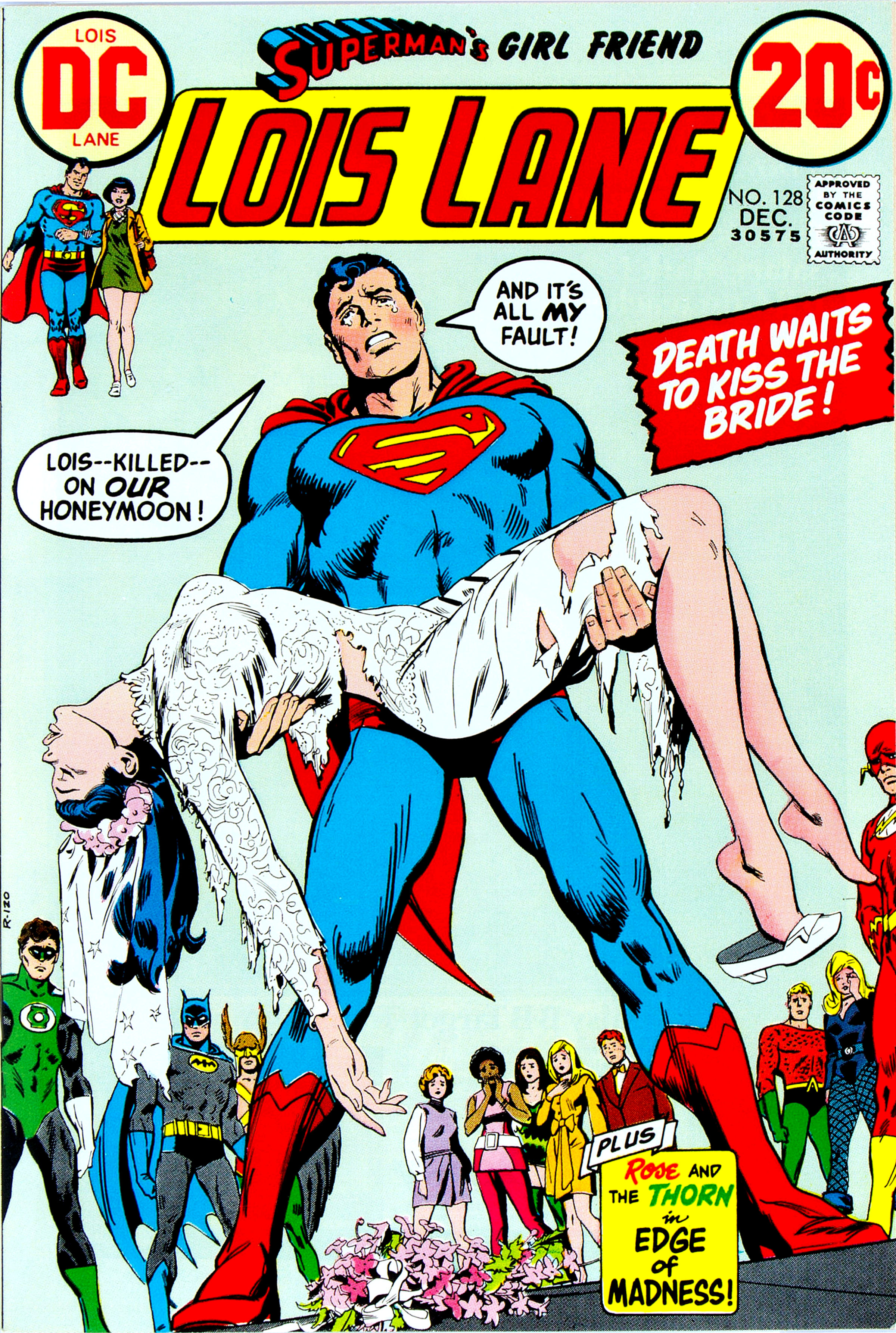 Batman has shown up twice on this list so far and so has Neal Adams. Here's another Batman cover by Neal Adams from Brave and the Bold #84 (April 1969) switching places with Sgt. Rock. As well as an Alan Davis cover for Detective Comics #574, which - similar to Batman #156 - shows Batman carrying Robin/Jason Todd (February 1987).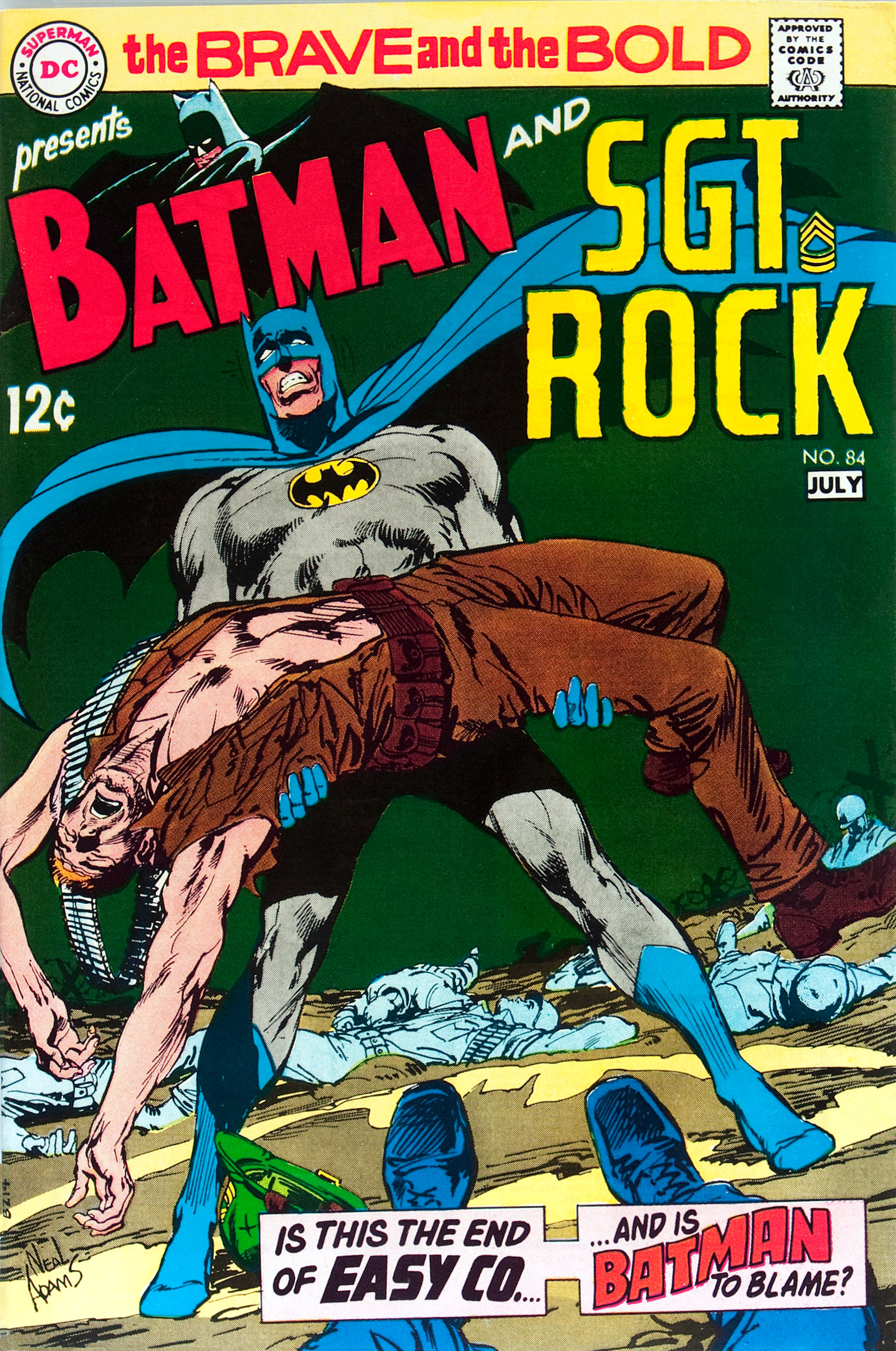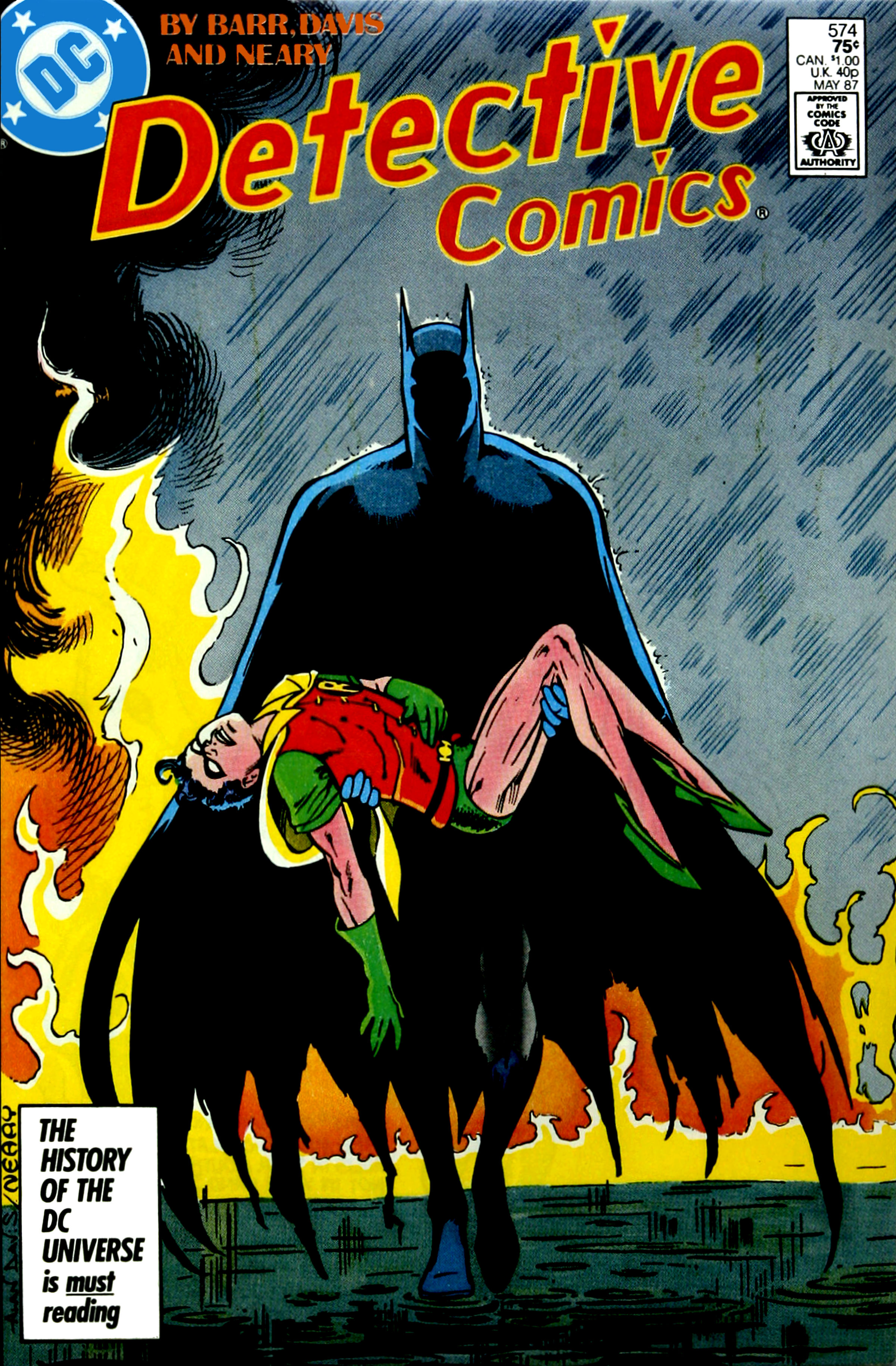 There won't be a lot of Marvel covers on this list. Not because there aren't plenty of them, but because they're primarily horror comics covers and this is a super-hero list. The Marvel horror anthology book covers could have a page all their own. There are, however, a few super-hero related Marvel covers. My favorite among them being this Frank Miller/Wally Wood cover from Daredevil #164 (May 1980).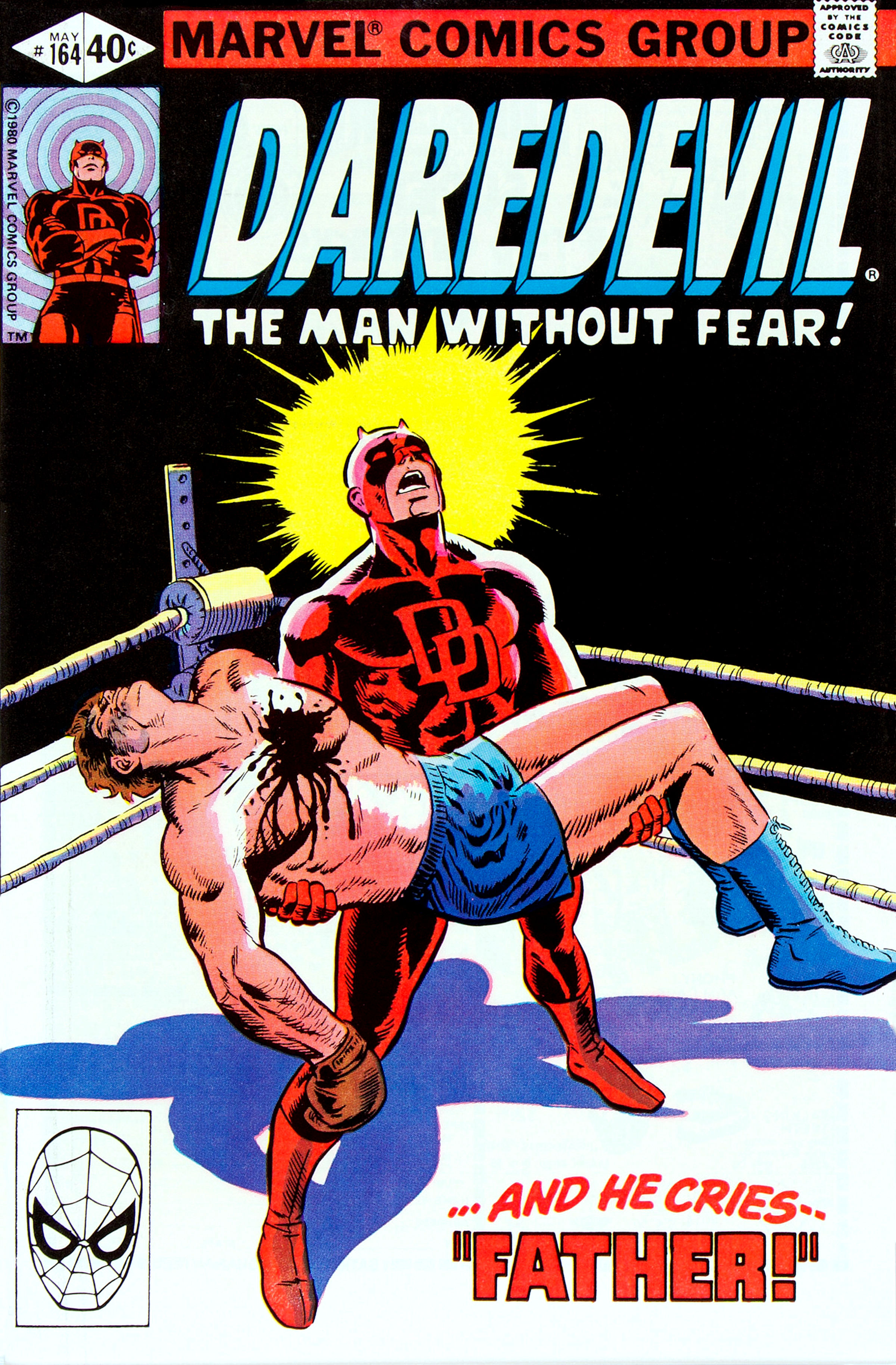 Jim Starlin wasn't the only one to do a literal callback to The Pietà - here's a Captain Atom cover by Pat Broderick from July 1987.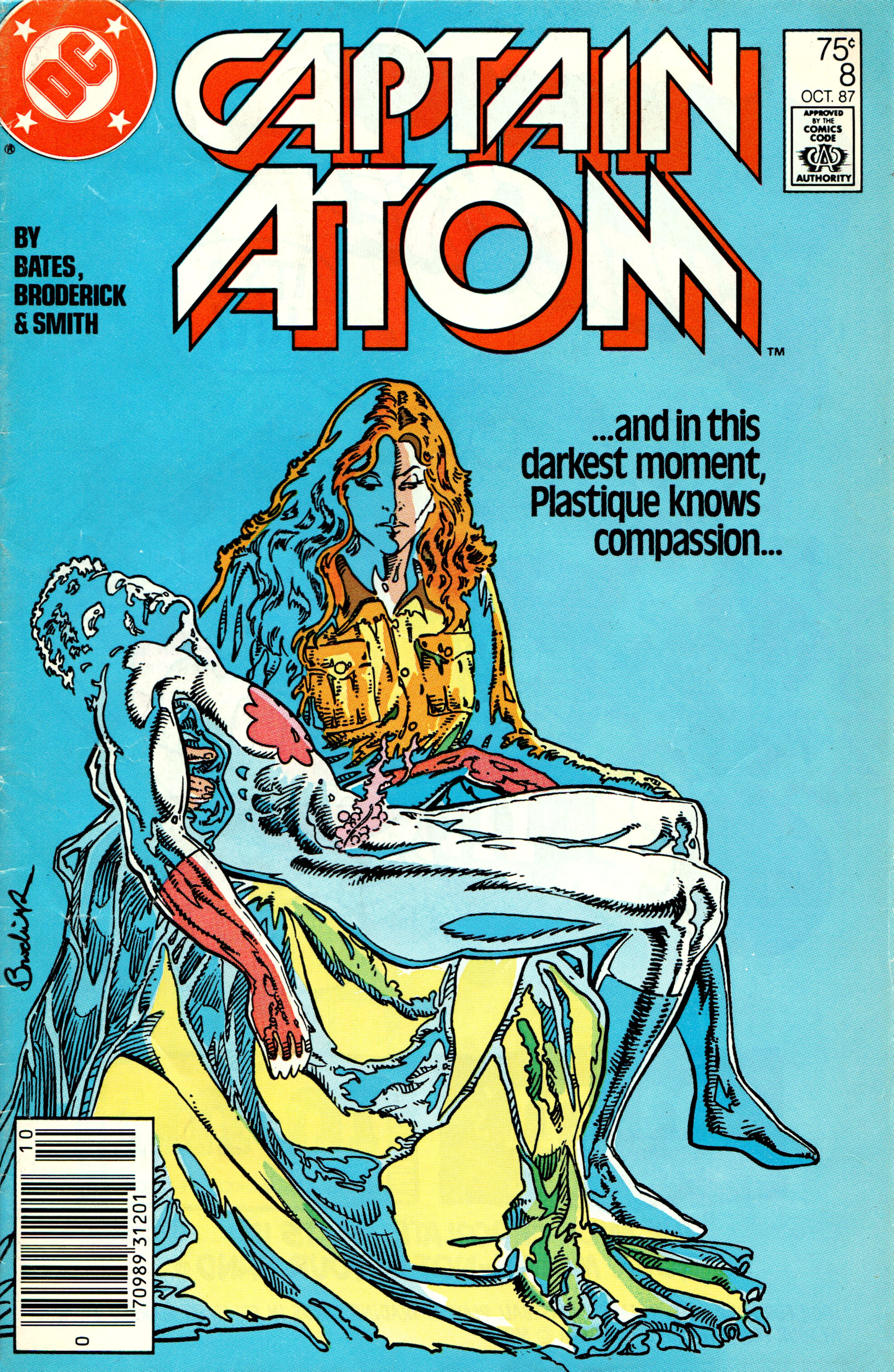 In an odd pre-saging of Crisis on Infinite Earths #7, this DC Comics Presents #56 (January 1983) cover by Gil Kane places Kal-El in the same position yet again, but with a different perspective and light source that provides an equally powerful image.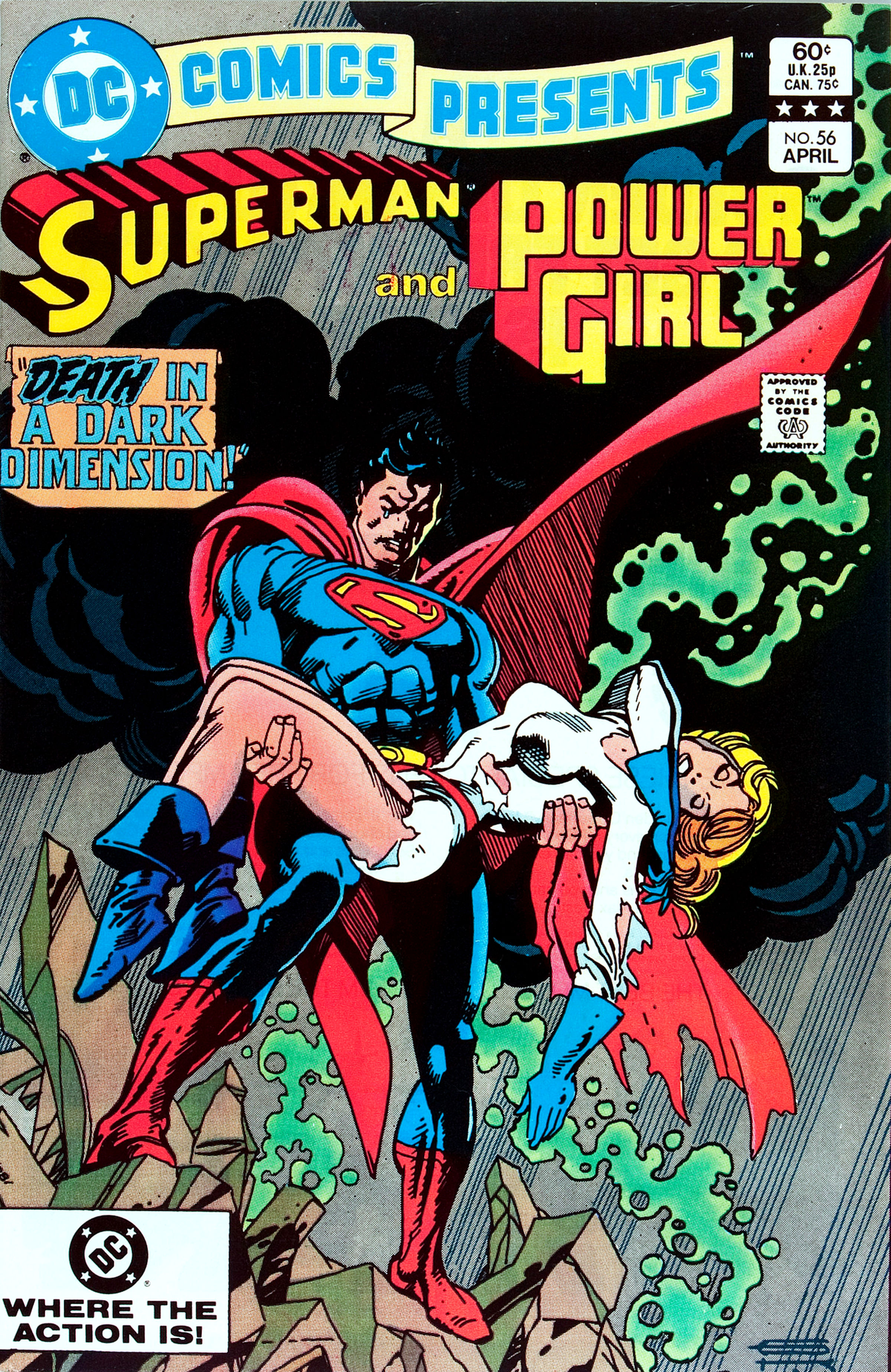 From personal memory, this was the first of these covers I recall seeing on the rack and in house advertisements in other DC comics and I can see why. This is a masterful rendering by Nick Cardy - the kind that resulted in his design abilities being applied primarily to covers a few years later. Aquaman #37 (November 1967).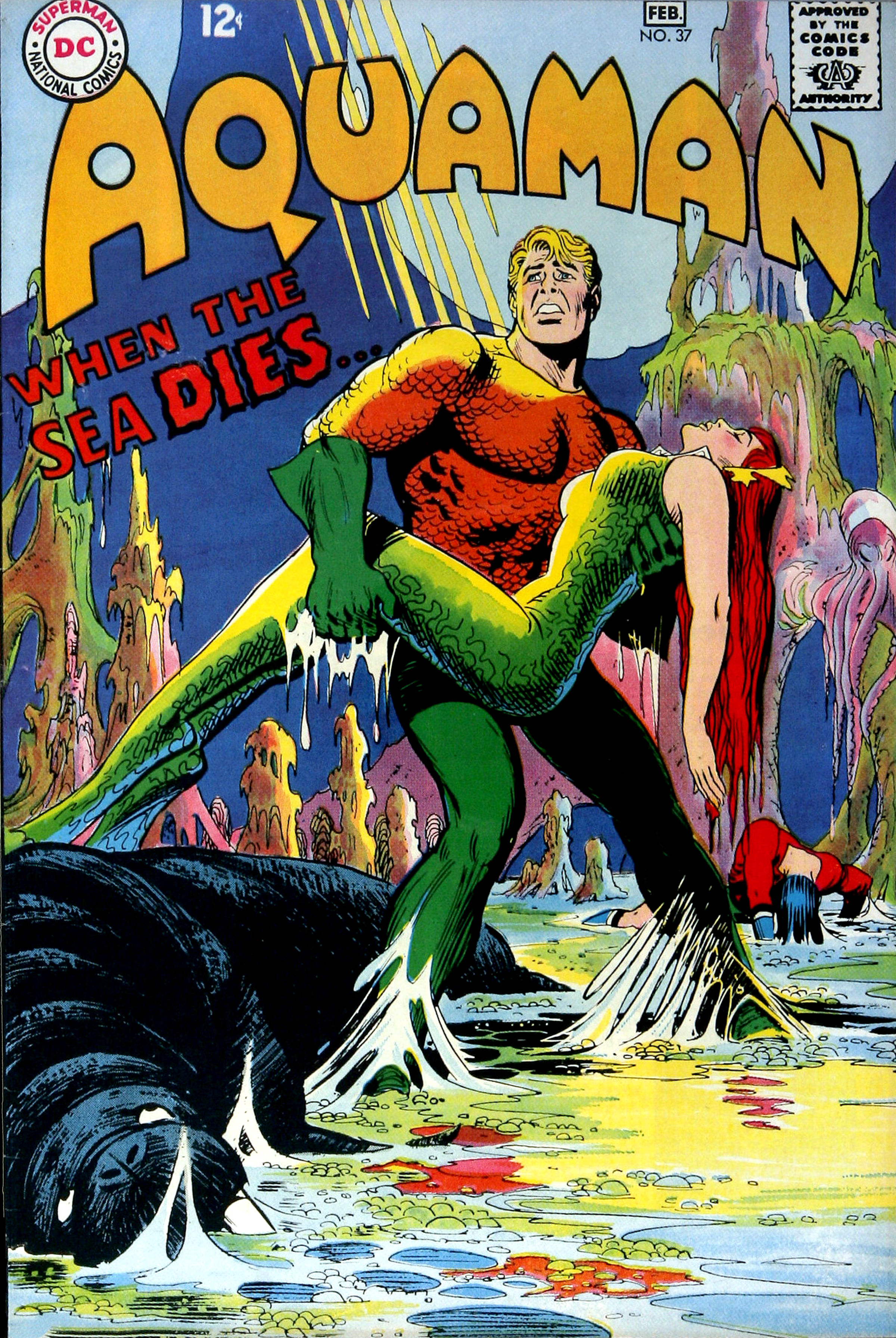 We're not finished with Neal Adams just yet. He makes another appearance on this list with Superboy #151 (August 1968).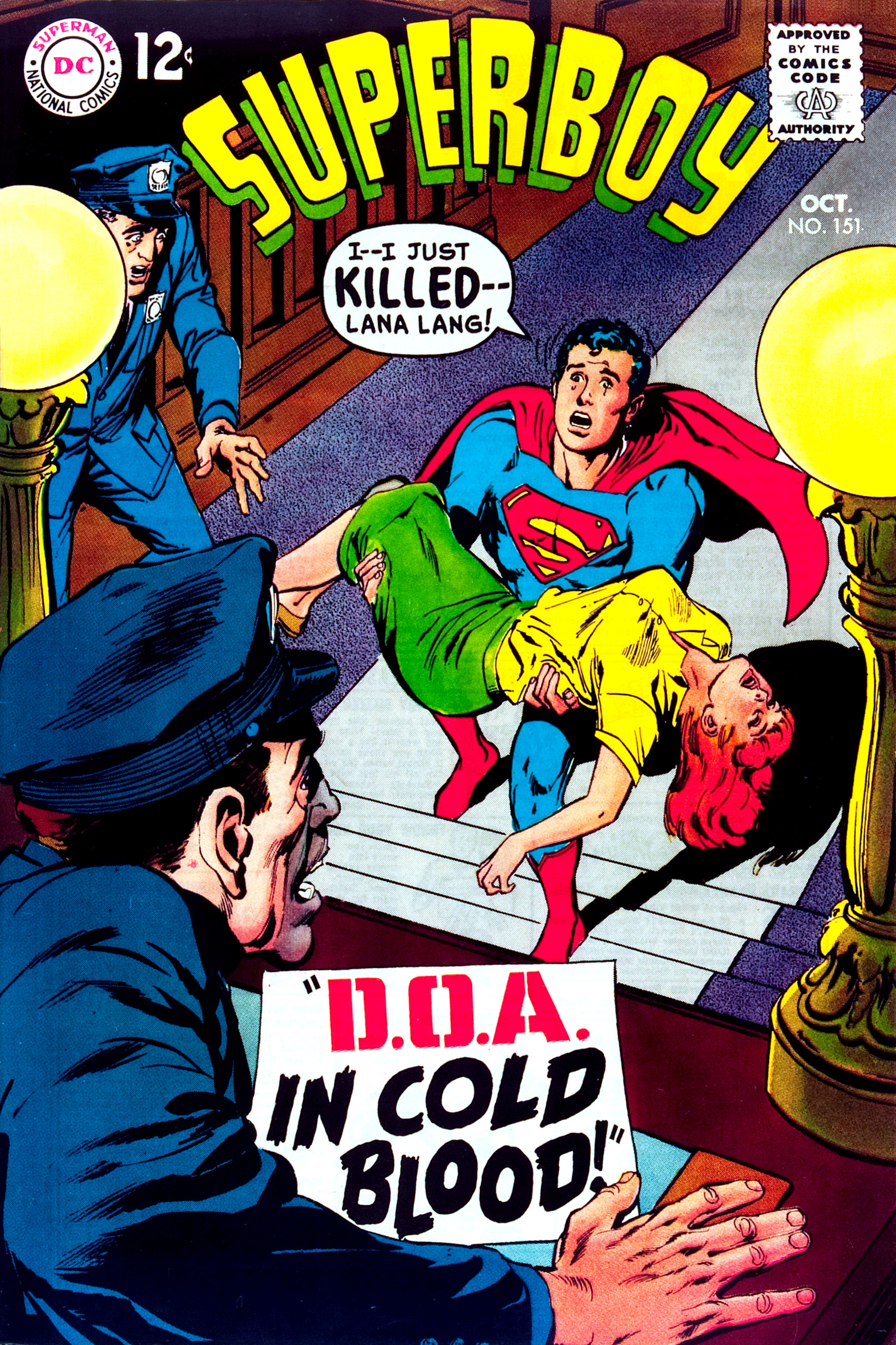 Next up, a cover very similar to - but 3 years prior to - Crisis on Infinite Earths #7. By Keith Giffen, the cover to the Legion of Super-Heroes #296 (November 1982).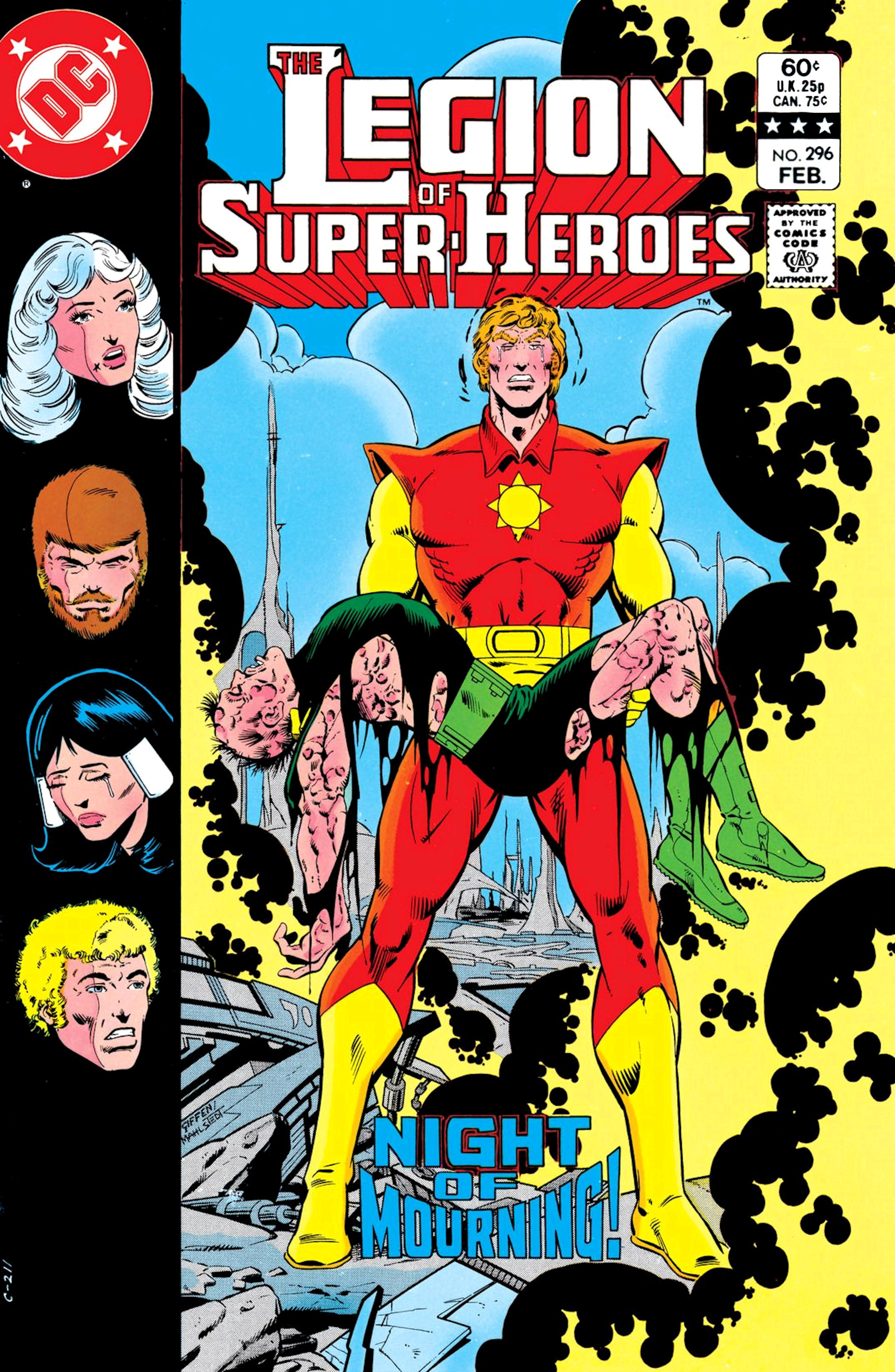 Rich Buckler was not to be left out of this list. He penciled this cover for Freedom Fighters #5 (August 1976), taking place on Earth-X but featuring Wonder Woman on the cover.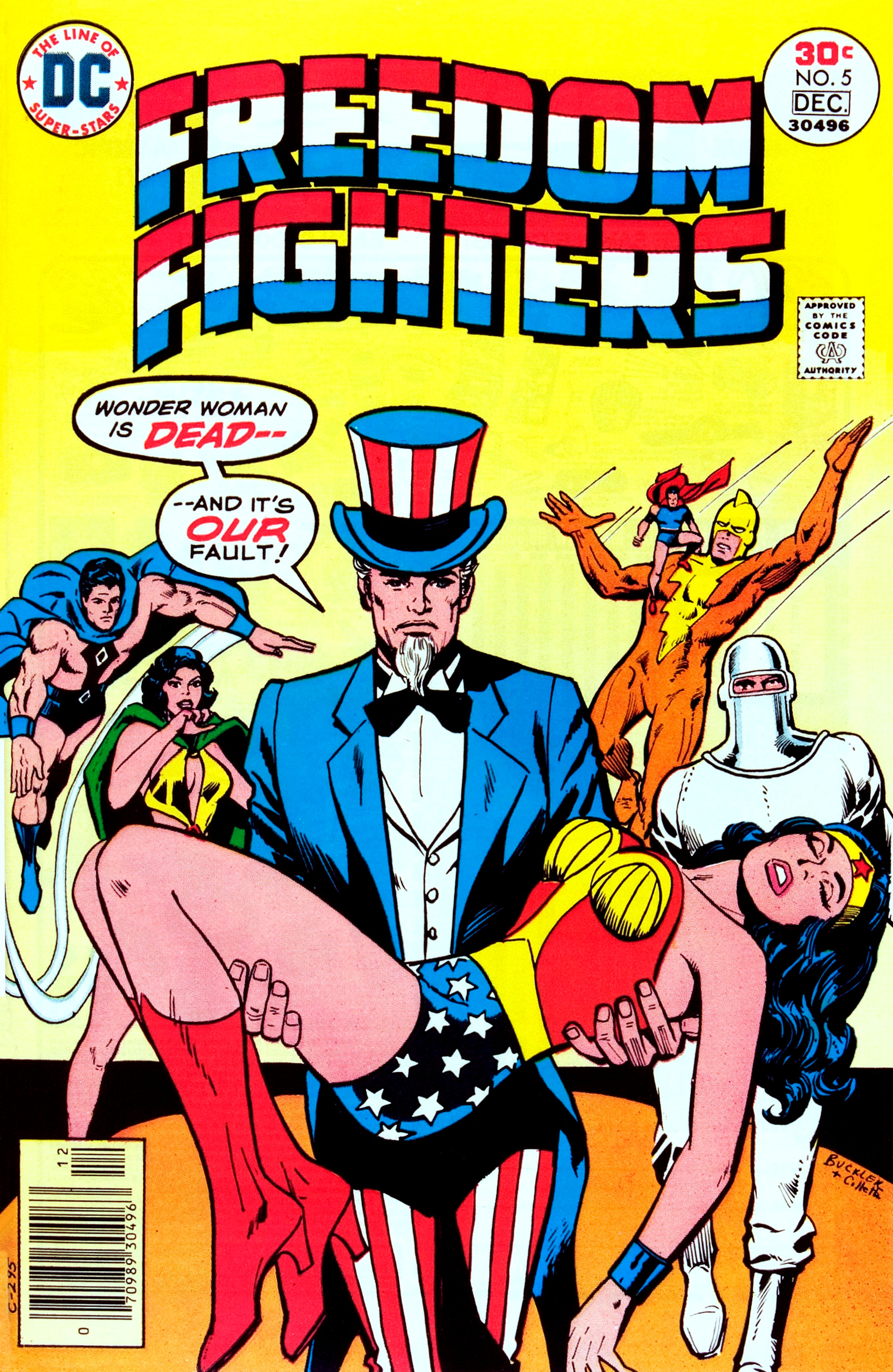 As we began with Crisis on Infinite Earths #7's iconic image, it begs the question: what is an iconic cover without a few parodies? Here are four of the many, many parodies available. A couple of Bongo Comics parodies: Radioactive Man #412 by Steve Vance (1993/94) and Comic Book Guy #1 by Bill Morrison (July 2010). Also, Superman The Man of Steel #10 by Jon Bogdonave (1992) and Mighty Mouse #4 (November 1990) with George Pérez parodying George Pérez for the in-issue epic "Mices on Infinite Earths!".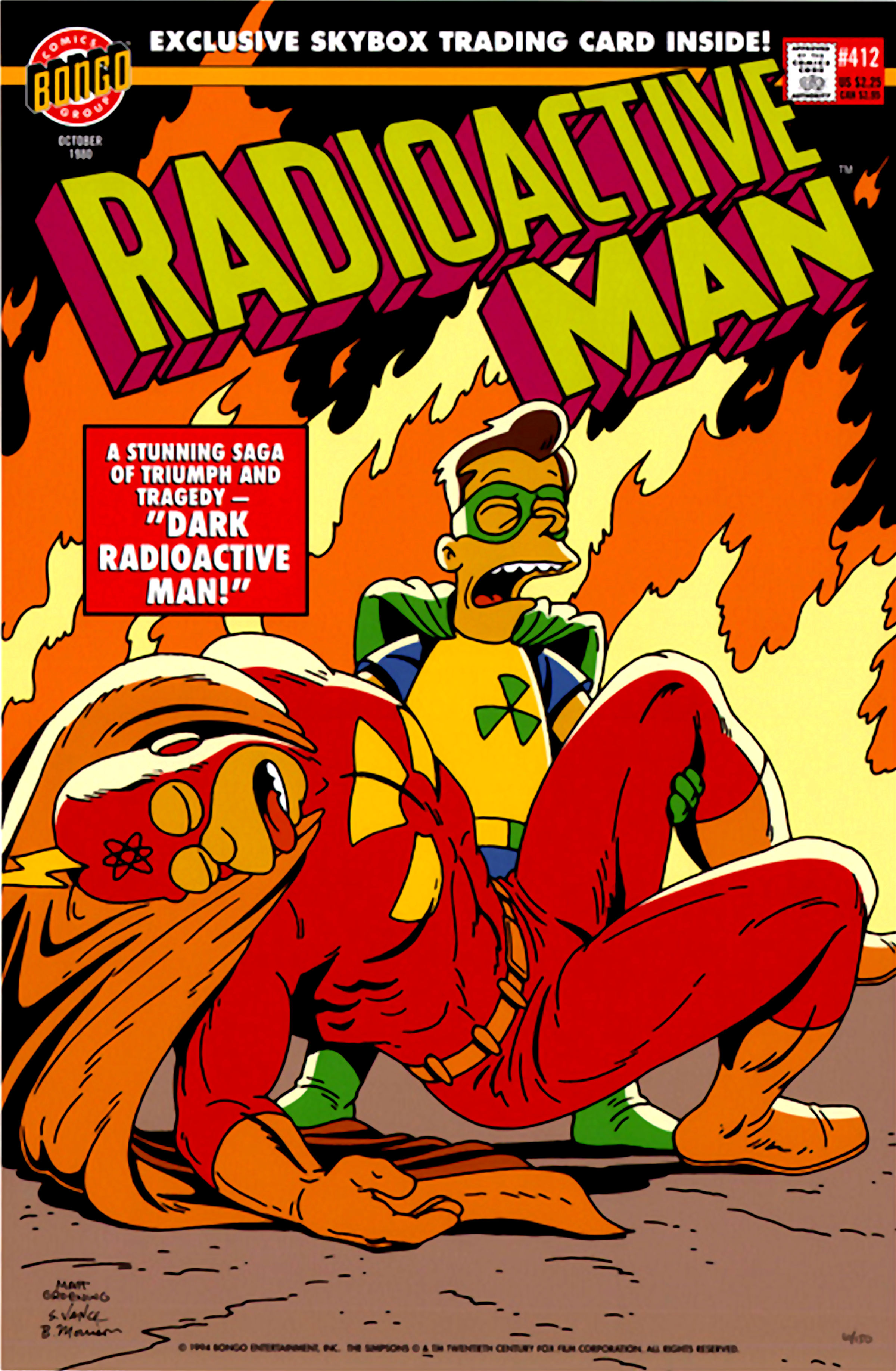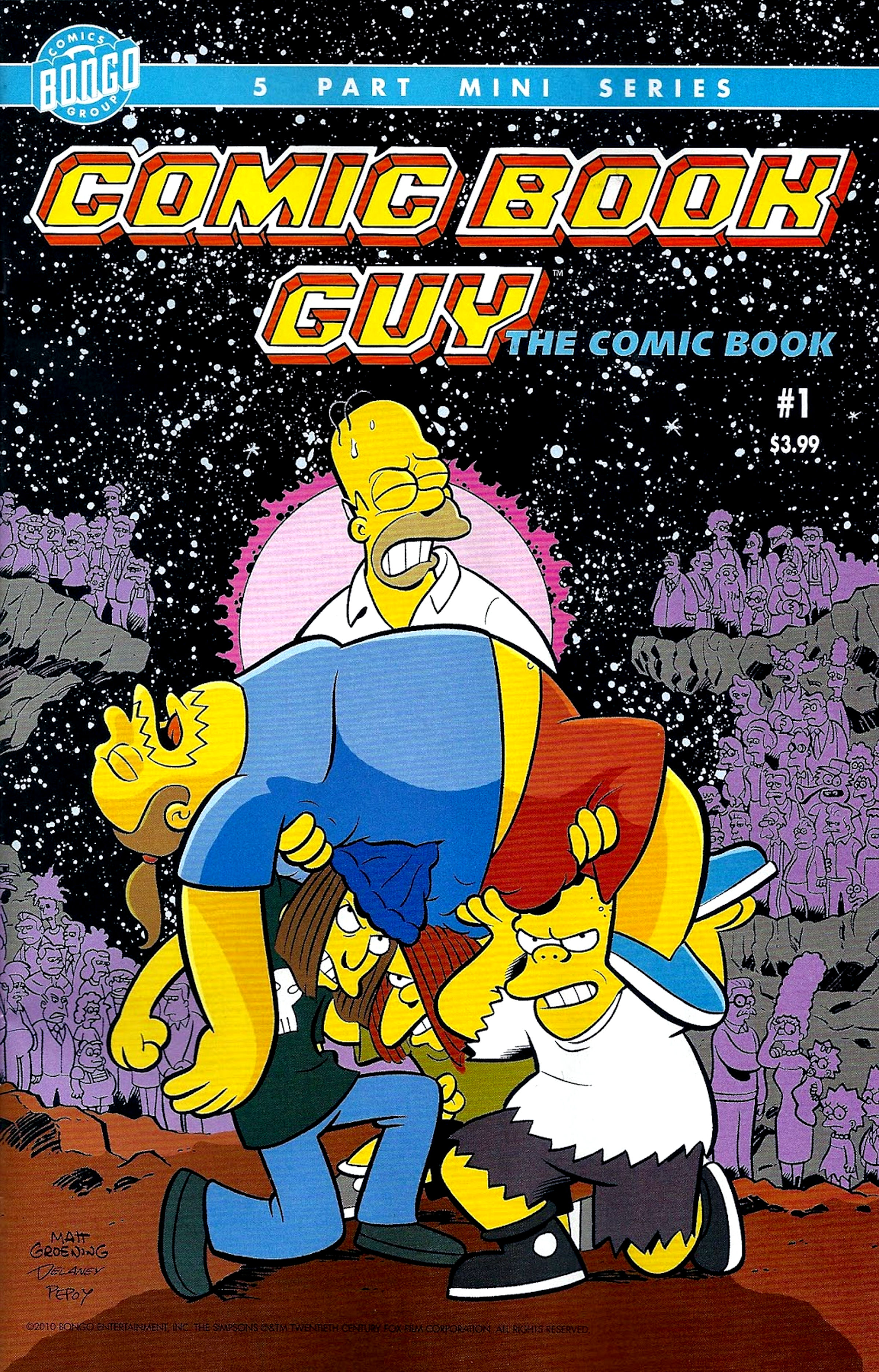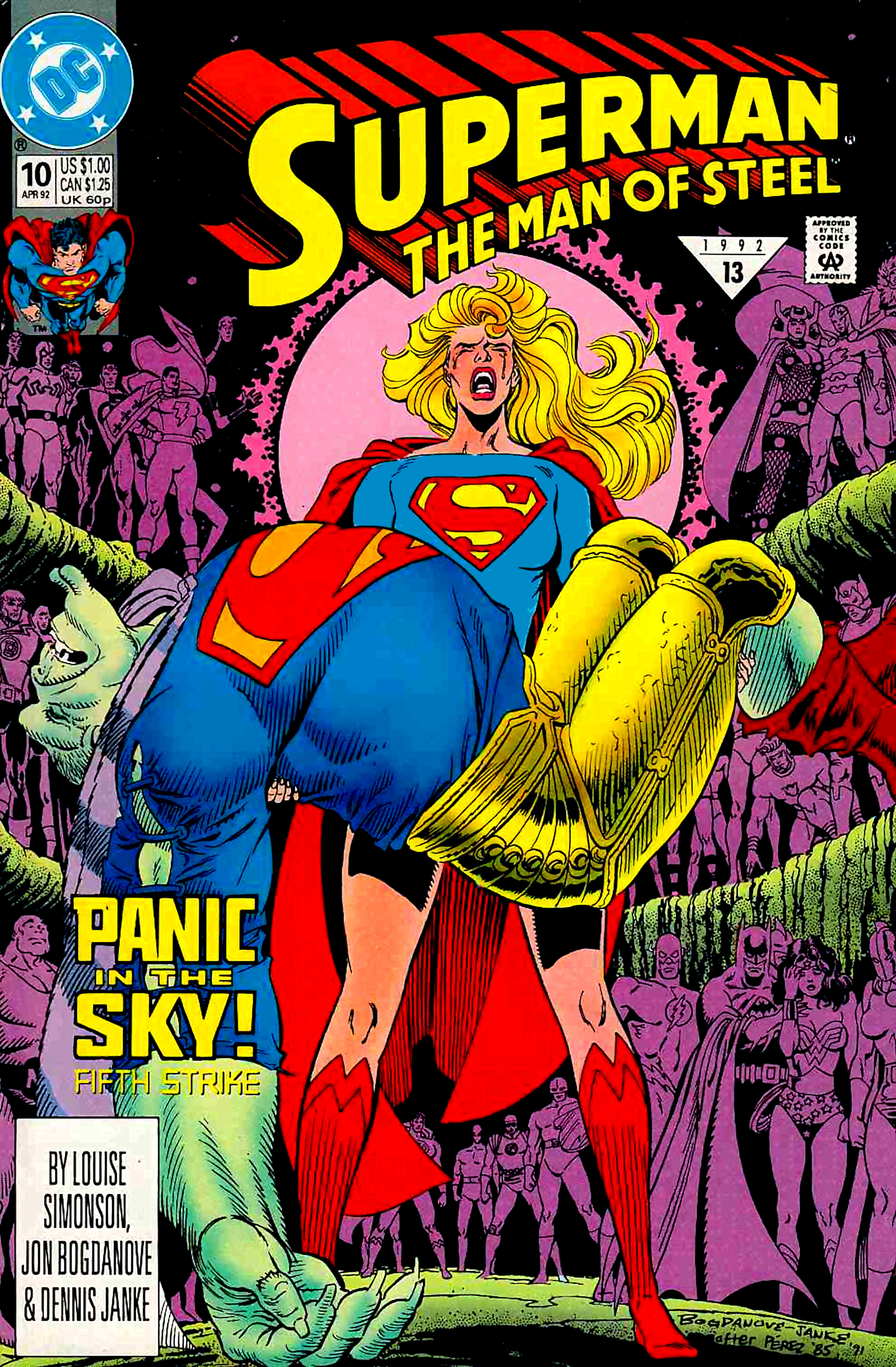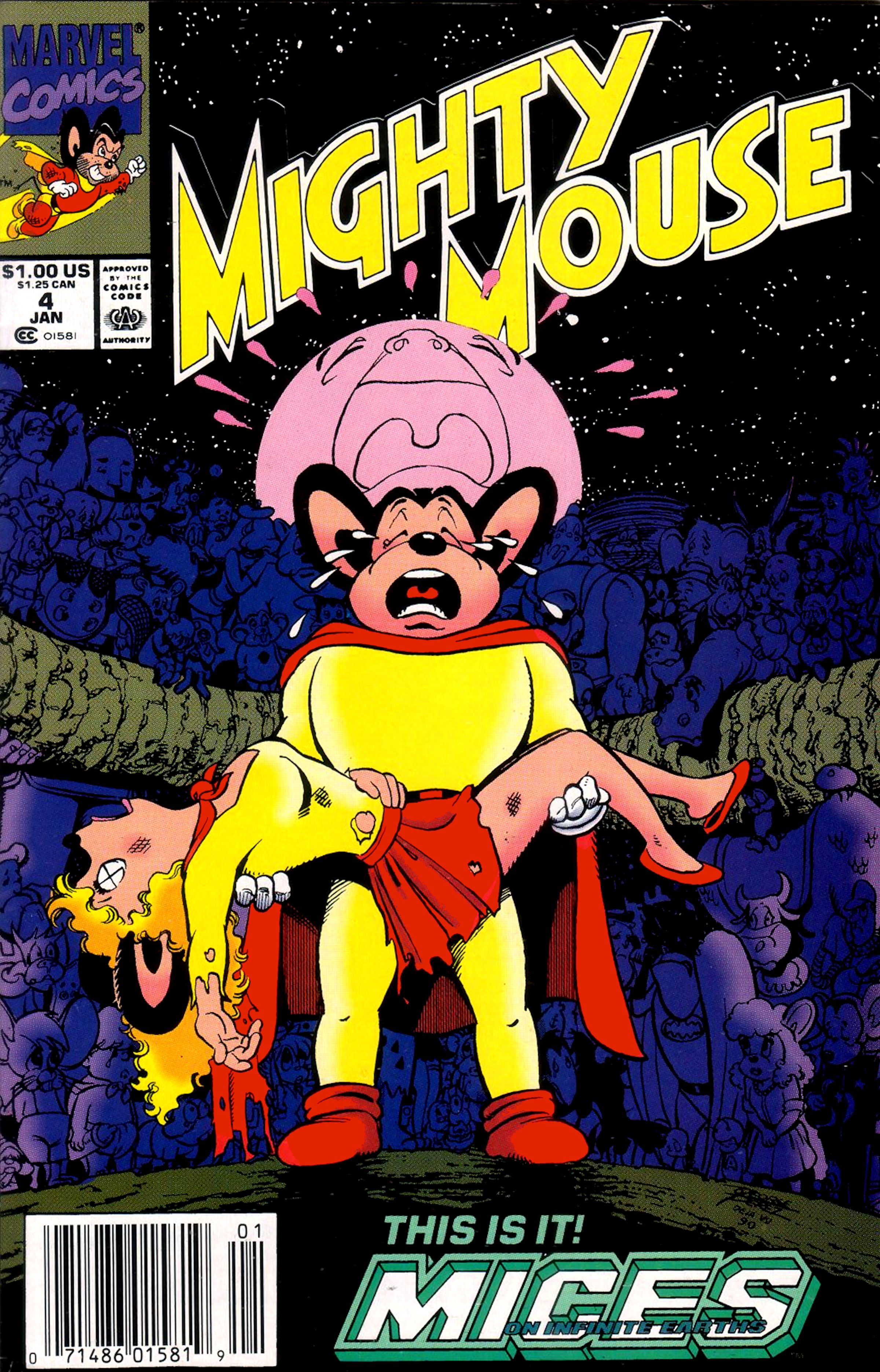 That's it for this writer. I do hope you've enjoyed this nerdy delving into this comic book trope that inhabits an odd corner of the comics landscape. I certainly enjoyed bringing it to you!
Pax, harmonia,
Please take a moment to check out the other sites on metropolisplus.com:
BACK TO COMICS MAIN PAGE
COMIC BOOK PIETA COVERS- NEW
WITH ONE MAGIC WORD... SHAZAM! THE RESURRECTION OF THE *ORIGINAL* CAPTAIN MARVEL! - NEW
WHEN DOES THE BRONZE AGE BEGIN?
DC's BRONZE AGE CHARACTER BULLETS
THE JUSTICE SOCIETY OF AMERICA & OUR IMAGE RESTORATION PROCESS - NEW GRAPHICS
RESTORING DAVE COCKRUM'S LEGION OF SUPER-HEROES - NEW GRAPHICS
THE AMAZING OUTFITS OF SUPERGIRL!
SUPERMAN'S SYMBOL, SHIELD, LOGO AND ITS HISTORY! - NEW GRAPHICS
DC 100-PAGE SUPER SPECTACULARS - THE WORLD'S GREATEST SUPER-HEROES! - NEW GRAPHICS
THE AMAZING WORLD OF DC COMICS INDEX - NEW GRAPHICS
A BRIEF HISTORY OF THE MARVEL UNIVERSE
BRIAN G. PHILBIN'S GUIDE TO THE BASICS OF COMICS, COMICS HISTORY, COMIC COLLECTING AND COMICS VALUES

All characters mentioned within these pages and associated images are © and ™ of DC Comics, Inc. and Marvel Comics, Inc. If you have any questions, comments or other items of interest concerning this page or comics or what-have-you, please feel free to E-Mail Brian G. Philbin. All items which are highlighted in blue text and underlined are links to the named item!
Text content is Copyright 2020 Brian G. Philbin